Lantronix xPico WiFi module may be already familiar to you from our articles, for example: xPico WiFi is a dream come true for producers and customers where we also mention the HW compatibility with the xPico module ( wired, serial-to-Ethernet modul). New version – xPico WiFi SMT brings the same functionality as xPico WiFi and as the name saysm it´s intended for a direct soldering by an SMT (reflow) process, together with other components on a PCB. In contrast to original version which has an SMT (board-to-board) connector, SMT version is designed similarly like many GSM/GPS modules, i.e. as a module on a carrying PCB with soldering pads on PCB sides (half-vias, plus gnd on a bottom).
At the same time, SMT version is also available with integrated small ceramic antenna, so no external antenna is required. Just this version XPCW1003100B we keep as a standard stock item. Perhaps the biggest advantage of SMT version is this possibility of a direct soldering bringing a very high mechanical stability – also suitable for applications with a higher risk of vibrations.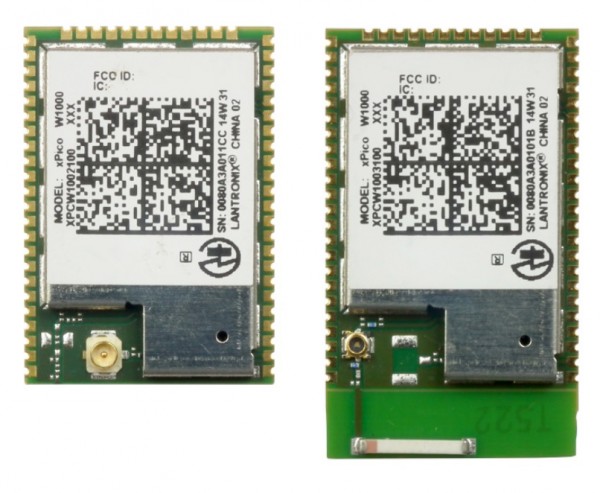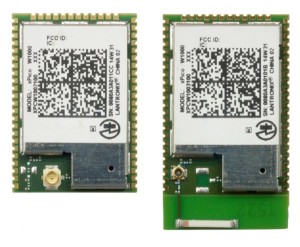 xPico WiFi SMT is the same powerful ("device server") as a previous version and offers easiest way how to add WiFi connectivity into a target device, practically without a necessity to write a single line of code.
Simultaneous AP (Access Point) with a DHCP server and Client mode also enable a direct access – communication with other WiFi device, for example with a tablet or a smartphone.
Detailed information will provide you the xPico WiFi SMT brochure, xPico WiFi SMTi datasheet and the xPico WiFi SMT integration guide.
In case of interest, please contact us at [email protected].