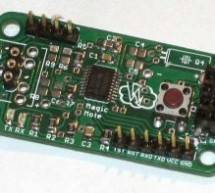 This is my first time designing a PCB for MSP430. I really like the NRF24L01+ booster pack but I would like something smaller to use for remote temperature sensors. With that in mind I've designed a 24.5 x 50 mm PCB (2 on a 5x5 cm prototype) featuring MSP430G2553 and an adapter for a 8-pin NRF24L01+ module using essentially the same pinout, with the intention of using the Spirilis library. There's a jack so ...
Read more

›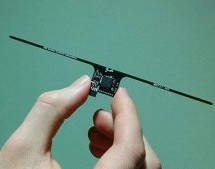 A new research initiative between the University of Washington's Sensor Lab and the Technical University of Delft in the Netherlands has created a microprocessor that can power itself through stray radio waves and receive programmable updates in the same fashion. While the RISC-derived 16-bit microcontroller CPU is very weak compared to modern standards, it's much more powerful than any other device that's ...
Read more

›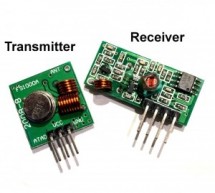 The most practical and cool way of sharing data from 1 Arduino to another is by far using a radio transmitter and receiver. The simplest form of wireless transmission (I could find) is the 433Mhz ASK modules. They come in pairs, a receiver and a transmitter. They are ridiculously cheap, selling at $1 or less a pair!! These modules provide simplex 1 way data transmission, in order to get a 2 way communicatio ...
Read more

›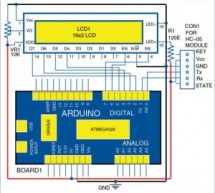 This wireless LCD display shows information sent from a smartphone. The user can send text messages with up to 32 alphanumeric characters to the LCD within Bluetooth range of about 10 metres. This project can be extended and implemented in many ways for: 1. Educational organisations (schools and colleges). To inform any changes in the timetable or important information 2. Hospitals. To inform a doctor's nam ...
Read more

›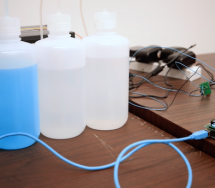 Researchers at Stanford University have just invented a revolutionary way of communication. They are replacing the conventional way of wiring, wireless, radio and Bluetooth connectivity using chemicals that can be found in every house. Nariman Farsad, now a postdoctoral fellow at Stanford, had built the first ever experimental chemical texting system in York University, which used vodka to send its messages ...
Read more

›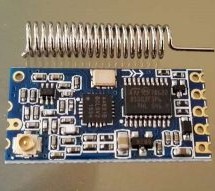 Description HC-12 are cheap 433MHz wireless serial port communication modules with a range up to 1800m in open space. Each costs about $5 when bought from China, and 2 of them can create wireless UART link that can be used, for example, to transfer telemetry data from UAV. Or drive IoT device. Or connect sensors. Or whatever else one can think of. It is based on SI4463 RF chip, has build in microcontroller, ...
Read more

›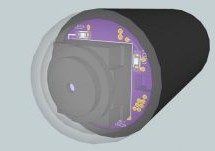 Description Tiny, pill-sized cameras are frequently used in the medical field to visualize the gastrointestinal tract, particularly areas not readily accessible by bulkier devices. Increasingly, consideration is given to using these devices in patients who cannot tolerate, or are otherwise unwilling to undergo, a conventional colonoscopy. The possibility of displacing or augmenting these methods with tiny, ...
Read more

›
Makers, hobbyists and Arduino enthusiasts searching for a project to keep them busy this weekend may be interested in this awesome wirelessly controlled crawling robot project created by Instructables user MusaW. Check out the video below to learn more about the tutorial that provides all the instructions you need to make your own 12 DOF or four legged, quadruped robot using SG90 servo that can be controlle ...
Read more

›
Battery lifetime is a key consideration for the development of the wireless sensor nodes that will populate the Industrial Internet of Things (IIoT). In many applications, the sensor nodes will need to be installed in locations that are difficult to reach let alone service. The sensor nodes need to be autonomous in terms of energy because it is too costly and difficult to run power lines to them or to have ...
Read more

›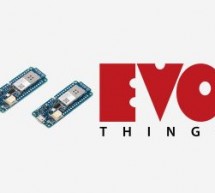 This simple project shows how to make an app that controls an Arduino MKR1000 board with Evothings Studio by communicating over the TCP. Things used in this project Hardware components Arduino MKR1000 × 1 LED (generic) × 1 Resistor 100 ohm × 1 Jumper wires (generic) × 1 Breadboard (generic) × 1 Software apps and online services Evothings Studio Arduino IDE Story MKR1000 is a powerful board that combines the ...
Read more

›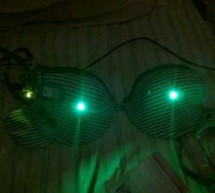 Sexy bra using Arduino MKR1000, Neopixels, and controlled from your smartphone. Story Motivation Many makers sacrifice their social life to play with devices and spend many hours and days making fun things. However, the non-maker do not understand that a robot is something beautiful even if there is a breadboard, components and noise in this tinny thing. Wearable devices are an opportunity towards the recon ...
Read more

›
More news: read all about the new AAduino Zero. News: the crowd sourcing campaign for  the AAduino will start soon, sign up at CrowdSupply to be notified! The specs have been beefed with an STM32L0 cpu and the temperature sensor is now an industrial grade TMP102. Update: you can now order the AAduino PCB from DirtyPCBs.com and get a Commadorable 64 bonus PCB for free. I have been using Nathan Chantrell's Ti ...
Read more

›