Makers, hobbyists and Arduino enthusiasts searching for a project to keep them busy this weekend may be interested in this awesome wirelessly controlled crawling robot project created by Instructables user MusaW. Check out the video below to learn more about the tutorial that provides all the instructions you need to make your own 12 DOF or four legged, quadruped robot using SG90 servo that can be controlle ...
Read more

›
Battery lifetime is a key consideration for the development of the wireless sensor nodes that will populate the Industrial Internet of Things (IIoT). In many applications, the sensor nodes will need to be installed in locations that are difficult to reach let alone service. The sensor nodes need to be autonomous in terms of energy because it is too costly and difficult to run power lines to them or to have ...
Read more

›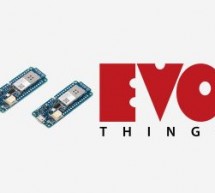 This simple project shows how to make an app that controls an Arduino MKR1000 board with Evothings Studio by communicating over the TCP. Things used in this project Hardware components Arduino MKR1000 × 1 LED (generic) × 1 Resistor 100 ohm × 1 Jumper wires (generic) × 1 Breadboard (generic) × 1 Software apps and online services Evothings Studio Arduino IDE Story MKR1000 is a powerful board that combines the ...
Read more

›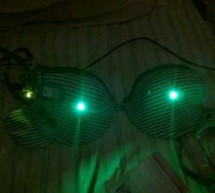 Sexy bra using Arduino MKR1000, Neopixels, and controlled from your smartphone. Story Motivation Many makers sacrifice their social life to play with devices and spend many hours and days making fun things. However, the non-maker do not understand that a robot is something beautiful even if there is a breadboard, components and noise in this tinny thing. Wearable devices are an opportunity towards the recon ...
Read more

›
More news: read all about the new AAduino Zero. News: the crowd sourcing campaign for  the AAduino will start soon, sign up at CrowdSupply to be notified! The specs have been beefed with an STM32L0 cpu and the temperature sensor is now an industrial grade TMP102. Update: you can now order the AAduino PCB from DirtyPCBs.com and get a Commadorable 64 bonus PCB for free. I have been using Nathan Chantrell's Ti ...
Read more

›
A pair of former engineers from Agilent (now Keysight) Technologies are working on an oscilloscope that will connect to an iOS device for its user interface. The Aeroscope, conceived by Alexander Lee and Jonathan Ward, looks like the kind of device that you'd use on home projects or in field locations. I recently spoke with Lee about the design. At this time, Lee expects to ship in the fall of 2016. The Aer ...
Read more

›
The most practical and cool way of sharing data from 1 Arduino to another is by far using a radio transmitter and receiver. The simplest form of wireless transmission (I could find) is the 433Mhz ASK modules. They come in pairs, a receiver and a transmitter. They are ridiculously cheap, selling at $1 or less a pair!! These modules provide simplex 1 way data transmission, in order to get a 2 way communicatio ...
Read more

›
This article explores an easy wireless communication setup between two Arduinos using low-cost ASK RF transmitter and receiver modules that are readily available in the market. They are found in different shapes, but functionally they are all same. Both Tx and Rx modules contain a single data line for input and output and support a low-speed Amplitude Shift Keying modulation for data communication. You can ...
Read more

›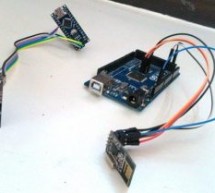 Creating a Local Network to share personnel and confidential data's has become almost impossible for a common man in our modern world. This is mainly because all common chat methods like Whatsapp, Facebook, Hangout and almost everything involves an internet connection. What if, we could share data without the medium of Internet? How cool it would be if you could communicate with people inside your home or w ...
Read more

›
I'm using the tiny and inexpensive Nordic Semiconductor nRF24L01+ transceiver (see "Tutorial: Nordic Semiconductor nRF24L01+ with the Freescale FRDM-K64F Board") in many projects: it costs less than $3 and allows me to communicate with a proprietary 2.4GHz protocol in a low power way (see "IoT: FreeRTOS Down to the Micro Amps"). I have that transceiver now running with the tinyK20 board too: The normal 2×3 ...
Read more

›
Amazon's Dash Button, which I previously mentioned back in late May 2015, is the ultimate in consumer convenience (or, if you prefer, consumerism gone crazy). Simply press a button on the inconspicuous adhesive-backed device (perfect for attaching to your washer and dryer, refrigerator, counter, or cabinet), and your Amazon account is charged for the purchase while the corresponding product gets automatical ...
Read more

›
In this project we are going to establish a wireless communication between two ESPs and send data from three sensors to an Excel spreadsheet. This tutorial shows a wireless weather station with data logging that you can implement in your home. Before you continue reading this project, please complete the following tutorials: How to get started with the ESP8266 How to make two ESP8266 talk How to ...
Read more

›