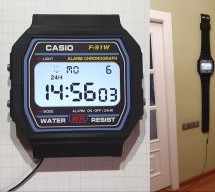 Along with all the colorful, geometric influence of Memphis design everywhere, giant wristwatch clocks were one of our favorite things about the 80s. We always wanted one, and frankly, we still do. Evidently, so did [Kothe]. But instead of some splashy Swatch-esque style, [Kothe] went the nerdy route by building a giant Casio F-91W to hang on the wall. Not only does it look fantastic, it has the full functi ...
Read more

›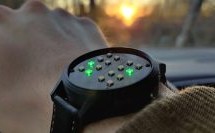 Nothing says tech addict quite like the wearing of a binary watch — and we say that as tech addicts ourselves. However, many of the homebrew binary watches we've seen don't just look nerdy because they are showing the time in binary. They are nerdy because it looks like someone strapped an Arduino to their wrist. Not so with [APTechnologies] "Ultimate Binary Watch." While creating a binary clock is not amaz ...
Read more

›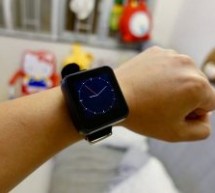 https://youtu.be/gSs7gNcs25Q This instructables show how to start playing with TTGO T-Watch. Step 1: What Is TTGO T-Watch? TTGO T-Watch is watch shape ESP32 based development kit. 16 MB flash and 8 MB PSRAM both are top specification. It also built-in a 240x240 IPS LCD, touch screen, micro-SD card port, I2C port, RTC, 3-axis accelerometer and a custom button. The backplane also can be switched to other modu ...
Read more

›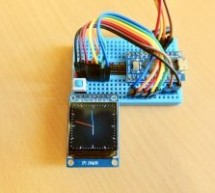 https://youtu.be/lFRq-LM5flQ This instructables show how to use a square color display and Arduino dev board build a watch core. This will cover the topics of dev board selection, display selection, extra modules selection, UI design, performance tuning and power saving. Note: I have prototyped some Arduino Watches few years ago. But the hardware sizes at that time are too big to squeeze into a watch case, ...
Read more

›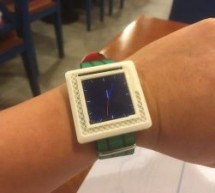 This Instructables show how to make a Arduino Watch from Arduino Watch Core. Step 1: Preparation Arduino Dev Board This time I am using Sparkfun Pro Micro 3.3 V 8 MHz dev board. Watch Display This time I am using a ST7789 1.3" IPS LCD. Lipo Battery I have some 301420 Lipo battery in hand. Lipo Charge Board I have some 15 mm x 15 mm Lipo charge board in hand. RTC Chip This time I am using DS3231M, it built-i ...
Read more

›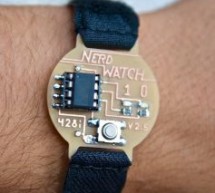 Hello! Welcome to another Other Machine project tutorial! I'm Sam DeRose, a former Other Machine Co. Summer Intern. I created the Nerd Watch last summer while working at OMC. The Nerd Watch displays the time in binary when the button is pushed. The watch shows the hour and minutes by flashing two LEDs in sequence to represent two 4-bit binary numbers (in big-endian format). Here's a grea ...
Read more

›
Pretty much. I was born in the nineties, and the first personal computer my family bought (a $3000 screamer with a 300 MHz Pentium II, 256 MB of RAM, and the optional Boston Acoustics speaker system) ran Windows 95. Also, this isn't the first time I've installed an old operating system on a watch. Here's a video of my Apple Watch running Mac OS 7.5.5: But How? Unlike the above port of the Mini vMac emulator ...
Read more

›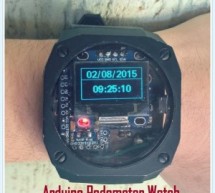 Hi folks! Last few days I've been obsessed with the idea to make my own watch from arduino parts, but something cool I could use and say I did it myself. So I found out there was a sensor board (commonly named GY-87) which had three sensors on it: HMC5883L (compass), BMP085 (pressure, altitude, temperature) and MPU6050 (accelerometer and gyroscope). With it, via I2C, I could add an Arduino Pro Mini, and an ...
Read more

›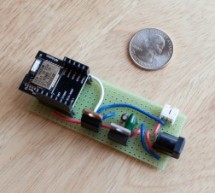 What's an Apple Watch good for? How about unlocking doors with just a tap on an app? We figured out how do something no one else has done for under 150 bucks, using standard door-strike hardware, our custom app, and a tiny RFduino microcontroller. In this Weekend Project we'll show you exactly how to do it. We started this project to help solve a real-world problem: prevent our employees from being locked o ...
Read more

›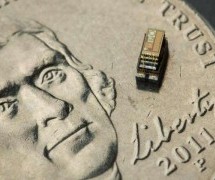 Michigan Micro Mote (M3) is the world's smallest computer. How small? It's about the size of a grain of rice. A University of Michigan's March report can tell you that the team behind the computer have come up with a fully autonomous system that can act as a smart sensing system. "To be 'complete,' a computer system must have an input of data, the ability to process that data - meaning process and store it, ...
Read more

›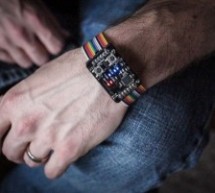 I've been spending a decent bit of my free time lately on my binary watch project.  I have a full writeup that I added to the projects section (which goes into more detail about the hardware and software used, and contains information about my github and storefront), but I figured I'd also do a post on the production flow I've been using, since I think that's kind of cool (thus reaffirming that I am an embe ...
Read more

›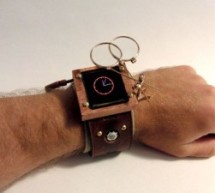 Update: New version out that works with Arduino 1.0 and higher! The Arduino Watch provides augmented sensing of temperature and range, 16-bit color drawing program, Breakout game, and also tells the time in your choice of digital, binary, or analog.  Additional sensors, devices, and programs are easy to add as any standard Arduino. The source code can be downloaded from the google code page, code.google.com ...
Read more

›