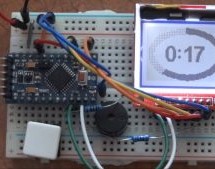 Feature creep is typically something to be avoided, since watching a relatively simple project balloon into a rat's nest of complexity often leads to ineffective, or even abandoned, projects. On the other hand, if you can maintain a tight focus, it's not always a bad thing. [cbm80Amiga] shows us how to drill down and add specific features in this single-button timer without losing focus on what the original ...
Read more

›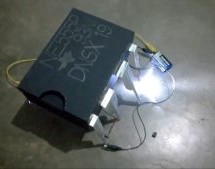 For many of our readers, the classic 555 timer holds a special place in their heart, and cursed be the fool who dares to use an Arduino in its place. For the seriously devoted ones, or those who simply like a novelty decorative item, [acerlaguinto7] built just the right thing: a giant, actually functional, cardboard 555 timer IC. Taking all the measurements of the original IC, [acerlaguinto7] scaled it up b ...
Read more

›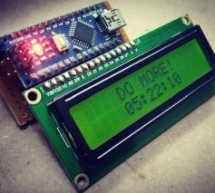 https://youtu.be/anUKywfO_l8 Summer, the lovely season when things happen. But sometimes we tend to forget the time. So to remind us the time left , I designed this Casey Neistat's 'Do More' DIY arduino driven timer which can be programmed to display the time left from any event, the start of a day or the start of summer its on you.All there was left to do was add a pair of Casey's signature glasses. But I ...
Read more

›
In this Instructables guide I will show you how to make your own Arduino two digit countdown timer. I made my own circuit by using the ATmega328 micro controller but this is an optional step. In this guide I will help you to make it easily on breadboard by using the Arduino uno board! We will be able to set the timer by pressing the setup buttons. We will use two digits seven segment display, so the maximum ...
Read more

›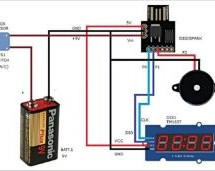 Ever accidentally left your room door ajar for a long period of time and found your valuables missing? Here is an intelligent solution for you. The idea is fairly simple as it mainly requires a TM1637 4-digit display and a Digispark USB development board. Digispark board TM1637 is a popular clock display module with a TM1637 driver chip from Titan Micro Electronics. This 4-digit, 7-segment LED display modul ...
Read more

›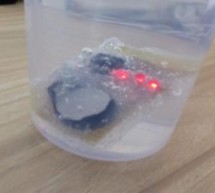 Story I went for a shower one day, was getting late for office. Running tight on time, but I didn't want to come out of hot shower in cold morning. Without any clock in my bathroom I was saying to myself "Lets enjoy the shower for few more minutes, I might be over estimating the time". Result: I got really late to my office. Solution: Put a clock in your bathroom. Nooooo. Why would I put a clock in my bathr ...
Read more

›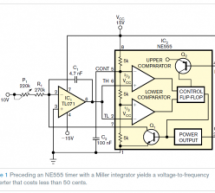 In 1971, Signetics—later Philips—introduced the NE555 timer, and manufacturers are still producing more than 1 billion of them a year. By adding a few components to the NE555, you can build a simple voltage-to-frequency converter for less than 50 cents. The circuit contains a Miller integrator based on a TL071 along with an NE555 timer (Figure 1). The input voltage in this application ranges from 0 to –10V, ...
Read more

›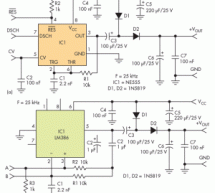 The bipolar NE555 timer IC is widely used in inductorless dc-dc converters, most frequently in doubling and inverting converters. However, another very popular IC, the LM386 audio amplifier, may be a better solution in this application. Note that the results also depend on the specific manufacturer of these multisourced ICs and on the quality of the related components. (We will use only Schottky diodes, to ...
Read more

›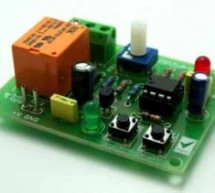 Description This project is a timer project and build around popular 555 Timer IC, It can be used for all application required a delay of up to 100 Seconds. Onboard board preset to adjust the required timer duration in range of   of 1 to 100 Seconds, Tact switch SW1 to reset the timer and SW2 to start the timer. LED D3 works as power indicator and LED D2 to indicate timer operation. Load can be connected to ...
Read more

›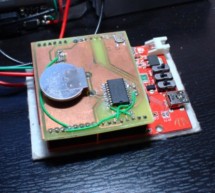 I bought a small aquarium (54l) as an impulse buy and I needed some lights for it, so naturally I wanted to use LEDs. I also needed a timer for the lights. I also wanted the lights to fade in and out when they were going on or off as a cool effect. I ordered four Cree XP-G R5 LEDs (cool white, apparently too warm of a light will cause algae growth) and a one amp (switching) constant current supply (with PWM ...
Read more

›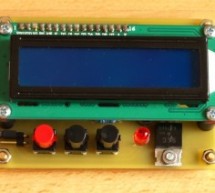 This is a quick project for a timer. Recently I finished my UV light exposure box and thought that it will be convenient to have a build in timer to switch off the light after preset time. So I had a PIC16F628A lying around and after searching the web I found a Brazilian site (I think?) with tons of interesting projects with microcontrolers. This project is based on one of them. There are three buttons to o ...
Read more

›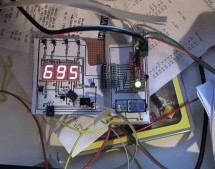 Hi, so me and my pal are setting up so we can make PCB´s. We are currently making a UV exposure box (possibly another instrucable) and for this box, we needed a timer, so this is what we have done so far, and what we are going to do. This project is based on the ardweeny from solarbotics because its cheap (10 $) and its small (28 DIP) it counts down from 999 to 0 (seconds) it has a 250V 10A Relay. here is a ...
Read more

›