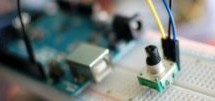 One of the first things anyone does when they start working with the Arduino is to connect it to a potentiometer and control the brightness of and LED or move a servo. Well, a rotary encoder may look like a potentiometer, but other than also having a knob, it is basically the complete opposite. A rotary encoder is a device that you can rotate infinitely. Simple ones like this one I got from sparkfun have no ...
Read more

›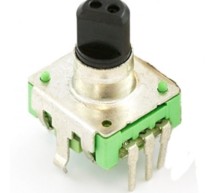 We have written a tutorial for Rotary Encoders using a Microchip microcontroller but now would be a good time to make an Arduino UNO version. With a rotary encoder we have two square wave outputs (A and B) which are 90 degrees out of phase with each other. The number of pulses or steps generated per complete turn varies. The Sparkfun Rotary Encoder has 12 steps but others may have more or less. The diagram ...
Read more

›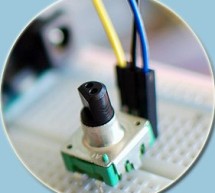 I am not sure, but it was in year 1999, a non-stop (360 degree rotation) potentiometer found in a stereo music system confused me a lot. At that time, I failed to keyed out the strange potentiometer manufactured by ALPS. Later, I learned that it's a Rotary Encoder (thanks to internet), and bought one such component from an online store for $2. A rotary encoder (RT) is a device that you can rotate infinitely ...
Read more

›
An old rotary phone can be used for a number of purposes in your Arduino projects - use it as a novel input device, or use the Arduino to interface a rotary phone to your computer. This is a very basic guide describing how to interface the dial to an Arduino, and get the number dialed passed into a computer over the Arduino's serial link. Step 1: Remove the dial from the phone First step is to remove ...
Read more

›