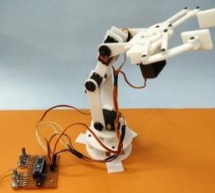 Record and Play 3D Printed Robotic Arm using Arduino Robotic Arms have proved themselves useful and more productive in many applications where speed, accuracy and safety is required. But to me, what's more than that is these things are cool to look at when they work. I have always wished for a robotic arm that could help me with my daily works just like Dum-E and Dum-U that Tony stark uses in his lab. These ...
Read more

›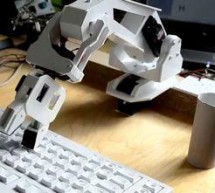 The Robot arm is controlled with the computer 6 servo motor used robotic arm system, built on the Arduino Uno is not more complex, additional links to make the robot arm mechanics portion of... Electronics Projects, Arduino Uno Robotic Arm Project "arduino projects, avr project, microcontroller projects, " The Robot arm is controlled with the computer 6 servo motor used robotic arm system, built on the Ardu ...
Read more

›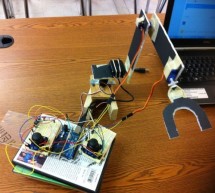 In this instructurable I will show you how to make a simple robotic arm controlled by 4 servos , 2 analog joysticks, and an Arduino UNO. It is very similar to my "2 Servos + Thumbstick" instructurable. This tutorial is in particular to help out another Arduino user;  "RobotZee". I will guide you step by step using simple construction parts. Remember this tutorial is to help you out and for you to have an id ...
Read more

›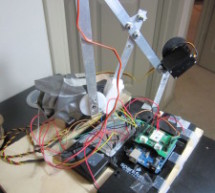 Hi. I'm Darren a 17 year old hobbyist, and this is the first Instructable I'm posting here, so I apologize if it kinda sucks! I hope it's good enough... So how did the idea of a robotic arm come to me? Well, the first thing I remember is our chemistry teacher (!) coming to me yelling that she has a project for me. It was for science Olympiad, however, apparently it was different from all the others, "someth ...
Read more

›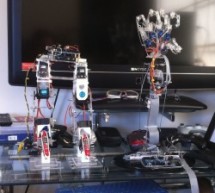 This instructable is not complete, I will post code soon The Arm: This instructable shows the process of building a robotic arm using servos, Arduino microprocessor, a gyroscope and multiple bend sensors. The user wears a glove containing the gyroscope and bend sensors which translate the movement of the users hand into motion of the  servos , in turn rotating the wrist and hand of the robotic arm. The fore ...
Read more

›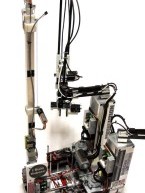 In the fall of 2012, we set out to construct a robotic arm for the Science Olympiad competition that would be capable of performing the required set of tasks efficiently and to perfection. This instructable will attempt to guide you through the thought processes used in the design and construction of this project. We spent countless hours working on this robot and hope to refine this into a condensed versio ...
Read more

›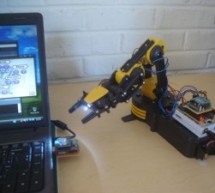 UPDATE: Added Schematic, Top Layer PCB, Bottom Layer PCB, and both Top, Bottom PCB images When I finished the  "RevIO" - an Arduino Clone that has the different way of exposing pins usage. I decided to go further to the next project. To test my "RevIO" board that it could do the bigger task than just blinking the LED! I modified the Wired Robotic Arm Edge to Wireless controlled, using my "RevIO" and DIY Thr ...
Read more

›