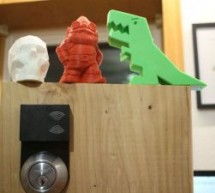 Forgot your keys? Unlock the door using an RFID combination sequence from hidden tags. Things used in this project Hardware components Arduino MKR1000 × 1 Adafruit Metro Mini × 1 Adafruit Lockitron × 1 RFID reader (generic) I used a RFID-RC522 from ebay × 1 Adafruit TB6612 1.2A DC/Stepper Motor Driver Breakout Board × 1 Adafruit powerboost 1000C × 1 Adafruit RFID Tag × 1 Software apps and online services Mi ...
Read more

›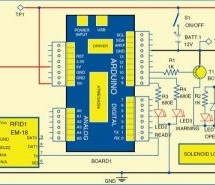 RFID is a non-contact, automatic identification technology that uses radio signals to identify, track, sort and detect a variety of objects including people, vehicles, goods and assets without the need for direct contact or line-of-sight contact (as found necessary in bar code technology). RFID technology can track movement of objects through a network of radio-enabled scanning devices over a distance of se ...
Read more

›
How does a tiny chip time the runners in the Bay to Breakers race? In this article, I take die photos of the RFID chip used to track athletes during the race. Bay to Breakers is the iconic San Francisco race, with tens of thousands of runners (many in costume and some in nothing) running 12km across the city. To determine their race time, each runner wears an identification bib. As you can see below, the ba ...
Read more

›
About Burglars Recently the Spiegel published an article about burglars in Germany: Burglars prefer the dark months. In december the insurances report 3 times more housebreakings than in july. The police reports that it is very difficult to find the delinquents. Mostly there are no witnesses and no traces. Only in 2,6% of the housebreakings the culprit can be condemned. Burglars do not only break into house ...
Read more

›
Realtime environment configuration via NDEF records and RFID tags! Just scan to change the text color! Motivation What else can we do with NFC? We've laid the groundwork for keycard access systems, initiated purchases on amazon, how about realtime configuration changes? In this write up we'll learn how to use NDEF tag formatting to store text records containing configuration information. In this case, color ...
Read more

›
MIT researchers have developed a new type of radio frequency identification (RFID) chip that is extremely difficult to hack. If such chips were widely adopted, it could mean that an identity thief couldn't steal your credit card number or key card information by sitting next to you at a café, and high-tech burglars couldn't swipe expensive goods from a warehouse and replace them with dummy tags. Texas Instr ...
Read more

›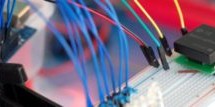 A few weeks ago we showed you how to control your arduino over serial. Well this week are going to do the same thing. Only this time instead of using the serial monitor to send the commands, we will be using the Innovations ID line RFID reader. RFID, or Radio Frequency Identification, is basically a wireless barcode, and in this implementation works by a reader sending out a signal that powers a "tag", the ...
Read more

›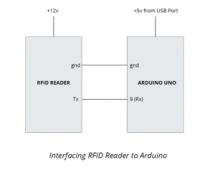 In this tutorial, we are dealing with yet another interfacing technique. This time we are interfacing an RFID Reader which can read RFID Tags to Arduino. RFID is Radio Frequency Identification. An RFID reader is used to read RFID tags (which contain certain unique data stored in a chip). An RFID reader and an RFID tag, both have a coil surrounding them. When an RFID tag is shown near an RFID Reader, ...
Read more

›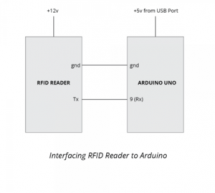 Its quiet fun to work with RFID based projects! In the previous article, we saw how to interface RFID with Arduino. Interfacing is the first step to create any useful project. So why don't we create an RFID based Access Control System or an RFID based Door Lock using Arduino? The system I have designed here is a simple version of the project. This project can be enhanced with a lot of features (which I will ...
Read more

›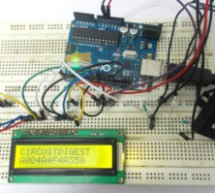 In this tutorial we are going to design a system to read the ID of RFID cards. RFID stands for Radio Frequency Identification. Each card has a unique ID embedded in it. These systems have many applications, like in offices, shopping malls and in many other places where only the person with authorization card is allowed to enter in the room. RFID is used in shopping malls to stop a theft from ...
Read more

›
Surya Mattu is a creative technologist who loves to make things. He's based in NYC and working at ITP, a two-year graduate program exploring the imaginative use of communications technologies. Today he's sharing with us how feasible it could be to build an RFID-controlled entry for students using Arduino Yún. Read  other guest posts on Arduino Yún. I work at ITP as the student floor-staff programmer. At the ...
Read more

›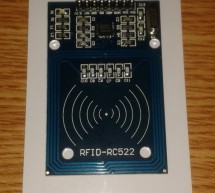 I just received my RC522 RFID reader and made this simple Arduino access control system that uses the reader, a buzzer for the alarm and a relay shield for the security system. The relay can be used to open a door lock and if you need a louder alarm then you can replace the small buzzer with a high power siren. I will not talk about the RFID reader because you can find a lot of information about it on the w ...
Read more

›