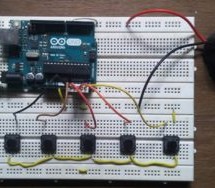 Here is yet another application you can put your Arduino to use. This will be an interesting DIY to make even though you are not very much into music. Though you cannot expect music out of this but still it will be a fun project worth giving a shot, trust me. This piano using Arduino was made out of switch buttons (used as keys), buzzer as sounder generate tones with different frequency. Read More: Fun DIY ...
Read more

›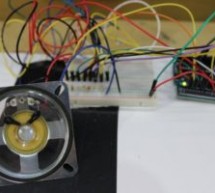 This BIG piano will help exercise the mind and body! All you need is a few buttons, a speaker, and some dancing shoes. BOM: Arduino Uno CUI 8 ohm speaker x8 pushbuttons x8 10k resistors x1 220 ohm resistor Jumper wire Breadboard Foamboard or cardboard Why? I was watching the movie Big the other day and I realized I wanted to dance just like Tom Hanks. With no fortune teller or genies nearby to help make thi ...
Read more

›

In November 2014, we displayed our first completed project as a club, the Staircase Piano. The idea for the project was given to us by Professor Barry Brown before the club was even formed. Throughout the semester we worked towards putting the piano together for a final presentation before the end of the Fall 2014 semester. We started out the project only using an Arduino for both the sensor readout and the ...
Read more

›
I recently got my shipment of 10 buzzers I ordered about a month ago, so as soon as I got them I was eager to make something fun with them, so I looked around a bit and searched for what to do with them, and by spending some time on www.arduino,cc and posting lots of questions on the forums, I figured out what I am going to make. I decided to make an air piano which is based upon cap-sense and the arduino. ...
Read more

›
Goal of this project: Convert a cheap toy piano to work as a midi device and use it with Synthesia (http://www.synthesiagame.com/) Other programs that use midi inputs can also be used. Approach: The pushbuttons of the piano are used to make a simple pull-down circuit for the arduino mega. The arduino interprets the keystrokes and sends serial midi data to the pc. Then this data is send to a virtual midi por ...
Read more

›