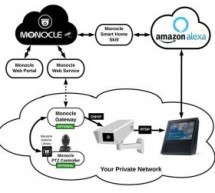 Monocle enables Alexa devices such as Echo Show/Spot & FireTV to view your network IP cameras & control them with a wireless PTZ controller. Story Amazon Alexa® (at least at the time of this writing) does not inherently support any direct integration with local/private network cameras running securely inside your network. Instead Alexa focuses on providing an infrastructure for third-party camera ma ...
Read more

›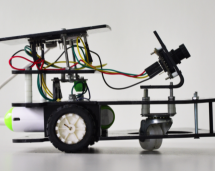 4Duino Intelligent Buggy project demonstrate how does uCAM-II works. This project also utilized two 4duino communicating using Server-Client architecture over TCP. It also uses a buggy car which carry the 4duino server and uCAM-II. By using built-in ESP8266, 4duino client sends a request to 4duino server to move the buggy and capture photo via wireless communication. Server-Client architecture is a network ...
Read more

›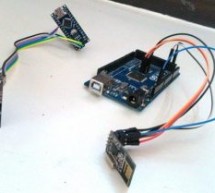 Creating a Local Network to share personnel and confidential data's has become almost impossible for a common man in our modern world. This is mainly because all common chat methods like Whatsapp, Facebook, Hangout and almost everything involves an internet connection. What if, we could share data without the medium of Internet? How cool it would be if you could communicate with people inside your home or w ...
Read more

›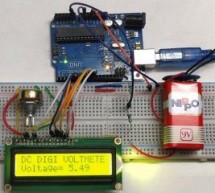 With a simple knowledge of Arduino and Voltage Divider Circuit, we can turn the Arduino into Digital Voltmeter and can measure the input voltage using Arduino and a 16x2 LCD display. Arduino has several analog input pins that connect to an Analog-to-Digital converter (ADC) inside the Arduino. The Arduino ADC is a ten-bit converter, means that the output value will range from 0 to 1023. We will obtain this v ...
Read more

›
Description The network analyzer shield uses an Analog Devices AD9851 DDS chip clocked at 180MHz which will output a sine wave at any frequency from 0Hz and 72MHz. The DDS output is filtered with a Butterworth LPF and then passed to a two transistor amplifier. The shield will output approximately 0dBm (maybe 1-2dBm if you turn the Pot up; may get distortion, though) into 50 Ohms. The output and input connec ...
Read more

›
Arduino shields are boards that will expand the functionalities of your Arduino. You just need to plug them over the top of the Arduino board. There are countless types of shields to do countless tasks. Here's a collection of 25 Arduino Shields. RECOMMENDED: Read our Home Automation using ESP8266 Course I've also wrote a list of 21 modules that you can buy for your Arduino for less than $2. 1. Ethernet Shie ...
Read more

›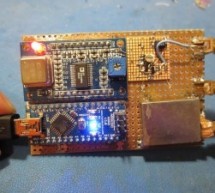 After playing around with the SynthNV signal generator/power detector discussed in the previous post I realized what a useful a tool it is for RF testing. While its a terrific tool for VHF/UHF/Microwave testing, the SynthNV has a couple of serious limitations for amateur use in the HF region - the signal generator has a minimum frequency of 35 MHz, the generated signal has a lot of harmonics and its a fairl ...
Read more

›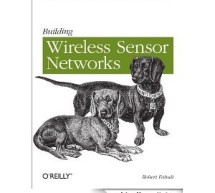 Get ready to create distributed sensor systems and intelligent interactive devices using the ZigBee wireless networking protocol and Series 2 XBee radios. By the time you're halfway through this fast-paced, hands-on guide, you'll have built a series of useful projects, including a complete ZigBee wireless network that delivers remotely sensed data. Radio networking is creating revolutions in volcano monitor ...
Read more

›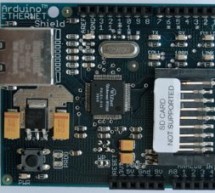 Overview The Arduino Ethernet Shield connects your Arduino to the internet in mere minutes. Just plug this module onto your Arduino board, connect it to your network with an RJ45 cable (not included) and follow a few simple instructions to start controlling your world through the internet. As always with Arduino, every element of the platform – hardware, software and documentation – is freely available and ...
Read more

›
This is one small project which I had done with Abhinav Gupta some months back. In this experiment, I graduate from using simple RF communication to Xbee! Whoa! Ok, so here is the basic problem statement. I need to develop a temperature sensing system such that the temperature from the sensor node is relayed to a co-ordinator sensor and then the co-ordinator node shows the user in a simple graphical form. F ...
Read more

›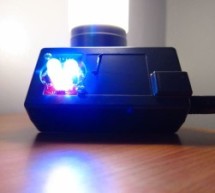 By popular request this is a new wireless version of the Visual Network Threat Level Indicator. This uses a Roving Networks WiFly RN-XV Module to do 802.11 WiFi along with an Arduino to display the threat level on your network. Network monitoring is very important in todays world. The internet is a scary place. People have taken steps to raise their awareness by installing Intrusion Detection Systems(IDS) s ...
Read more

›
Network monitoring is very important in todays world. The internet is a scary place. People have taken steps to raise their awareness by installing Intrusion Detection Systems(IDS) such as SNORT. The problem with most of these systems is that upon first installing them they are vigilantly watched. After a week the allure wears off and they are no longer monitored, silently churning away in the depths of the ...
Read more

›