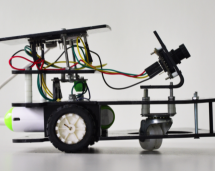 4Duino Intelligent Buggy project demonstrate how does uCAM-II works. This project also utilized two 4duino communicating using Server-Client architecture over TCP. It also uses a buggy car which carry the 4duino server and uCAM-II. By using built-in ESP8266, 4duino client sends a request to 4duino server to move the buggy and capture photo via wireless communication. Server-Client architecture is a network ...
Read more

›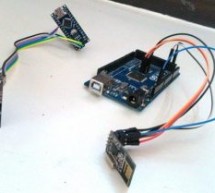 Creating a Local Network to share personnel and confidential data's has become almost impossible for a common man in our modern world. This is mainly because all common chat methods like Whatsapp, Facebook, Hangout and almost everything involves an internet connection. What if, we could share data without the medium of Internet? How cool it would be if you could communicate with people inside your home or w ...
Read more

›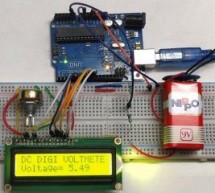 With a simple knowledge of Arduino and Voltage Divider Circuit, we can turn the Arduino into Digital Voltmeter and can measure the input voltage using Arduino and a 16x2 LCD display. Arduino has several analog input pins that connect to an Analog-to-Digital converter (ADC) inside the Arduino. The Arduino ADC is a ten-bit converter, means that the output value will range from 0 to 1023. We will obtain this v ...
Read more

›
Description The network analyzer shield uses an Analog Devices AD9851 DDS chip clocked at 180MHz which will output a sine wave at any frequency from 0Hz and 72MHz. The DDS output is filtered with a Butterworth LPF and then passed to a two transistor amplifier. The shield will output approximately 0dBm (maybe 1-2dBm if you turn the Pot up; may get distortion, though) into 50 Ohms. The output and input connec ...
Read more

›
Arduino shields are boards that will expand the functionalities of your Arduino. You just need to plug them over the top of the Arduino board. There are countless types of shields to do countless tasks. Here's a collection of 25 Arduino Shields. RECOMMENDED: Read our Home Automation using ESP8266 Course I've also wrote a list of 21 modules that you can buy for your Arduino for less than $2. 1. Ethernet Shie ...
Read more

›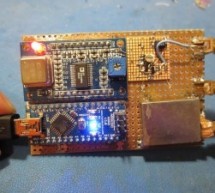 After playing around with the SynthNV signal generator/power detector discussed in the previous post I realized what a useful a tool it is for RF testing. While its a terrific tool for VHF/UHF/Microwave testing, the SynthNV has a couple of serious limitations for amateur use in the HF region - the signal generator has a minimum frequency of 35 MHz, the generated signal has a lot of harmonics and its a fairl ...
Read more

›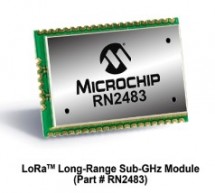 Microchip Technology Inc., has announced the first in a series of modules for the LoRa technology low-data-rate wireless networking standard. The system is designed to allow Internet of Things (IoT) and Machine-to-Machine (M2M) wireless communication offering a range of more than 10 miles (suburban), a battery life of greater than 10 years, and the ability to connect millions of wireless sensor nodes to LoR ...
Read more

›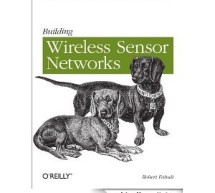 Get ready to create distributed sensor systems and intelligent interactive devices using the ZigBee wireless networking protocol and Series 2 XBee radios. By the time you're halfway through this fast-paced, hands-on guide, you'll have built a series of useful projects, including a complete ZigBee wireless network that delivers remotely sensed data. Radio networking is creating revolutions in volcano monitor ...
Read more

›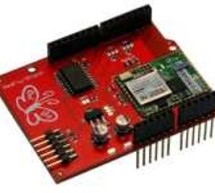 RedFly Shield description: RedFly Shield specification: IEEE 802.11b/g/n/i 2.4GHz Wireless security: AES, WEP, WPA, WPA2 - PSK Ad-hoc (IBSS) and Infrastructure mode (on Ad-hoc only WEP encryption) Integrated WiFi and IPv4 stack (TCP, UDP) Supports up to 8 sockets at the same time RedFly Shield pinout: For more detail: RedFly Shield ...
Read more

›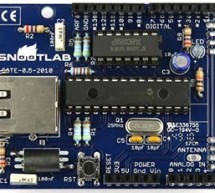 Gate 0.5 Shield description: Ethernet shield based on the ENC28J60. Compatible with the Ethershield library. Includes the footprint for a 434MHz receiver module. Gate 0.5 Shield specification: Gate 0.5 Shield pinout: Note: Pin D8 not required for Ethernet: connected to the 434MHz receiver DATA line. For more detail: Gate 0.5 Shield ...
Read more

›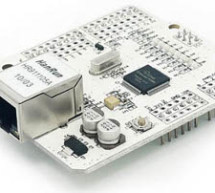 Wiznet Ethernet Shield description: Ethernet shield based on the Wiznet W5100 ethernet chip. Compatible with official Arduino Ethernet library and with added support for the Arduino Mega. Wiznet Ethernet Shield specification: Standard Arduino and Arduino Mega compatible Arduino Ethernet Library compatible Standard RJ45 ethernet Jack 16K byte internal buffer Indicator LEDs for all functions Easy to access re ...
Read more

›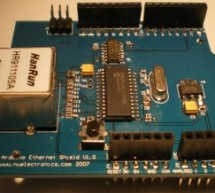 Ethernet Shield v1.0 description: Ethernet shield that connects your Arduino to a LAN. Ethernet Shield v1.0 specification: Uses Microchip's ENC28J60 SPI ethernet controller and compatible RJ45 socket. Open-source TCP/IP protocol stack as an Arduino library. Web client application to use Arduino as a distributed network sensor. Directly plug onto your Arduino board, no soldering or fly-wiring needed. Stackab ...
Read more

›