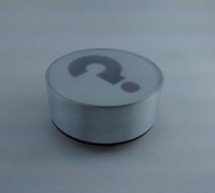 Chatty Coasters are interactive coasters that listen for silences and insert provocative conversation starters into them. Chatty Coasters are interactive drink holders that listen for silences in conversation and insert provocative questions into them. In order to encourage healthy, thought-provoking conversation in kitchens, Chatty Coaster waits for drinkers to rest their cup on it and breaks prolonged sil ...
Read more

›
This project used the Si470x FM radio receiver and an ardurino to make an over the counter kitchen radio. These parts had been purchased for a different build that unfortunately met a premature end. The concept for this project is simple. Play my favorite news and music radio stations while having a form factor that does not take up space on the kitchen counter. I have a small push button that toggles betwe ...
Read more

›
In this Instructable, I will step through controlling the temperature of most kitchen appliances. As an example, I will use an old Westbend Poppery popcorn maker (aka. coffee roaster), but these same techniques will be applicable to most hot plates, coffee makers, and waffle irons. This instructable puts you at risk of electrocuting or burning yourself. I will do my best to point out potential pitfalls, but ...
Read more

›