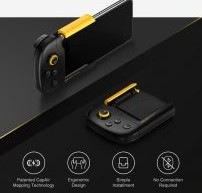 Personalized Mobile Gaming Experience | No Connection Required | Compatible with Fortnite & PUBG As avid mobile gamers of Fortnite and PUBG, we always crave more accurate aiming, better field of view and flexible multi-control. But we know that it's hard to satisfy all our needs by using our mobile device only. Typical gamepads can be used, but are usually quite bulky, making them difficult to take on t ...
Read more

›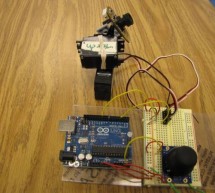 In my other 2 Arduino tutorials I have help new users to play tones and making 2 servos move with a mouse. This time I will help you move the same 2 servos with a thumbstick. And again I have surf the internet to see If there are tutorials that clear to understand specially for the beginner Arduino user and, I have not found one. To move 2 servos with the thumbstick is way easier and painless than using the ...
Read more

›
Hi, First of all, my English is not perfect =) I've seen many projects with Arduino that describes how to control 2 servo's with a joystick or use a lcd screen. All of the projects that i have seen are all seperate things. So i decided to make a short Instructable of these things combined. In this instructable is everything you need! Drawings, schematics, pictures and even the Complete Code that i've mostly ...
Read more

›
Want to be able to control a couple of servos with a thumb-joystick? But don't know where to start? I don't have servos, but I can put you on the right track on how to do stuff when you move the thumbstick around. This instructable will teach you how to output the direction of the thumbstick to a 16x2 LCD screen. What you do after that is only limited by your imagination! Have fun! Step 1: Materials 1x Ardu ...
Read more

›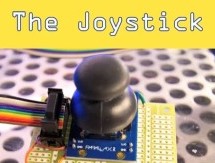 Robert Book is a tinkerer by nature and works at Silicon Valley Bank with Ian McCutcheon, a geek by nature. One day they were talking and Robert shared his big problem: his son Jerry, who suffers from Muscular Dystrophy, couldn't use a keyboard anymore but loved to play computer games. Jerry could only be able to use a mouse with his right hand and very limited abilities in his left. After a chat they reali ...
Read more

›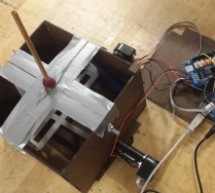 The domain of haptics has immense potential as a technology to assist visually-impaired individuals with their navigation of the physical world. In this project, we sought to develop a 2-DOF haptic joystick to provide force-feedback to a user as she attempts to navigate a maze - with no visual feedback whatsoever. The proof of concept we show here takes a given maze, and renders it as a 2D navigable virtual ...
Read more

›
Using the Mouse library, you can controls a computer's onscreen cursor with an Arduino Leonardo, Micro, or Due. This particular example uses a pushbutton to turn on and off mouse control with a joystick. Cursor movement from the Arduino is always relative. So every time the analog input is read, the cursor's position is updated relative to it's current position. Two analog inputs ranging from 0 to 1023 are ...
Read more

›
Hello everyone! Today I present you : Arduino Joystick! One day I was checking the inside of old joystick. System wasn't that hard to understand, so I thought of making my of system. The whole build is made only by me. I didn't check the internet pages about joysticks etc. What is it? It's a simple joystick type controller  that uses basic electronic parts and is easy to use even for beginners. Why should y ...
Read more

›
This sketch shows you how to read information from the Esplora's joystick and use it to control the movement of the cursor on your computer. You're making your Esplora into a mouse! This sketch will take over the mouse movement of your computer. If you lose control of your cursor do the following : unplug the Esplora open the EsploraBlink sketch in the Arduino software hold the Esplora's reset button down w ...
Read more

›