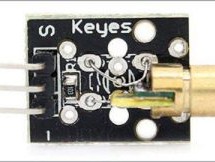 This project turns on and turns off a laser LED after every second. It can also monitor its own supply voltage level. The circuit can be extended for use as an audio-visual alarm system for security applications. Keyes KY-008 laser transmitter module is available at www.ebay.com. But there is a lot of confusion regarding this particular module; it is impossible to find its datasheet or any kind of related d ...
Read more

›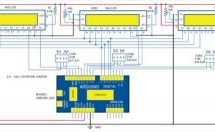 Here we describe interfacing of three 16×2 LCDs with common data lines to an Arduino Uno board. Four data lines of all the three LCDs are connected to digital pins of the Arduino Uno board but data displayed on each LCD is different. Circuit and working The circuit diagram for interfacing of three LCDs with Arduino is shown in Fig. 1. It is built around popular Arduino Uno board (BOARD1), three 16×2 ...
Read more

›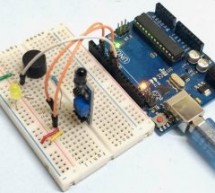 In this article we interface Flame Sensor with Arduino and learn all the steps to build Fire Alarm System by using Arduino and flame sensor. Flame sensor module has photodiode to detect the light and op-amp to control the sensitivity. It is used to detect fire and provide HIGH signal upon the detection. Arduino reads the signal and provides alert by turning on buzzer and LED. Flame sensor used here is an IR ...
Read more

›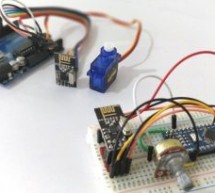 Arduino NRF24L01 Tutorial to Control Servo Motor While Internet of things (IoT), Industry 4.0, Machine to Machine communication etc are getting increasingly popular the need for wireless communication has become incumbent, with more machines/devices to speak with one another on the cloud. Designers use many wireless communication systems like  Bluetooth Low Energy (BLE 4.0), Zigbee, ESP43 Wi-Fi Modules, 433 ...
Read more

›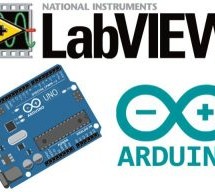 Interfacing LabVIEW With Arduino In previous article of Getting Started with LabVIEW, we have seen about LabVIEW and how it can be graphically programmed and executed in computer (software level). Now in this article we learn about How to Interface LabVIEW with Arduino Board. Requirements To interface LabVIEW with Arduino, you require the following software's and hardware's, LabVIEW (software) NI VISA (soft ...
Read more

›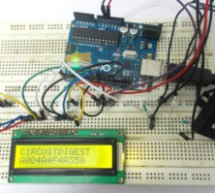 In this tutorial we are going to design a system to read the ID of RFID cards. RFID stands for Radio Frequency Identification. Each card has a unique ID embedded in it. These systems have many applications, like in offices, shopping malls and in many other places where only the person with authorization card is allowed to enter in the room. RFID is used in shopping malls to stop a theft from happening, here ...
Read more

›
PIR sensors are widely used in motion detecting devices. This article is about interfacing a PIR sensor to 8051 microcontroller. A practical intruder alarm system using PIR sensor and 8051 microcontroller is also included at the end of this article. Before going in to the core of the article, let's have a look at the PIR sensor and its working. PIR sensor. PIR sensor is the abbreviation of Passive Infrared ...
Read more

›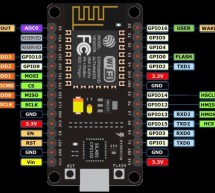 A guide to getting started with the ESP8266 with the Arduino IDE This assumes that yo have a NodeMCU type board with the Silicon Labs CP2102 USB to UART Bridge. These boards are convenient because they can be connected directly to your computer for progamming and serial console. NodeMCU pin functions First install the  Silicon Labs CP2102 USB to UART Bridge driver for your operating system. Then follow the ...
Read more

›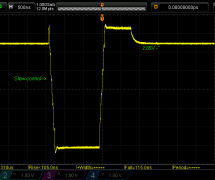 Since the release of V-USB, dozens of projects have been made that allow an AVR to communicate over USB.  USB data signals are supposed to be in the range of 2.8 to 3.6V, so there are two recommended ways to have an AVR output the correct voltage.  One is to supply the AVR with 3.3V power, and the other is to use 5V power but clip the USB data signal using zener diodes.  Most implementations of V-USB, like ...
Read more

›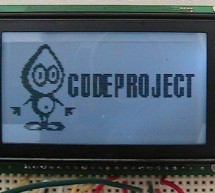 Introduction This is the second article in a three part series I am writing on the Arduino hardware platform. This article focuses on wiring an Arduino to a character LCD and a graphic LCD, and includes static and animated demos to show off the capabilities of each display. Character and Graphic LCDs After I initially discovered the Arduino platform, I immediately noticed a wide variety of components that c ...
Read more

›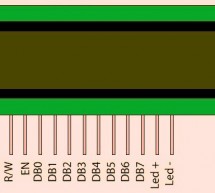 16×2 character LCD display is a very basic LCD module which is commonly used in electronic projects. 16×2 means it can display 2 rows of 16 characters (columns). Its other variants such as 16×1, 16×4 etc are also available. These LCDs are usually made using HD44870 compatible controllers. In this tutorial we will see how to interface a 16×2 Character LCD display with Arduino Uno development board. Arduino p ...
Read more

›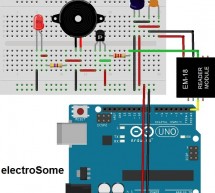 Arduino Uno is an opensource physical computing platform based on ATmega328 microcontroller and provides a development environment for writing software for the board. It can be used for a variety of projects. EM-18 RFID reader is one of the commonly used RFID reader to read 125KHz tags. It features low cost, low power consumption, small form factor and easy to use. It provides both UART and Wiegand26 output ...
Read more

›