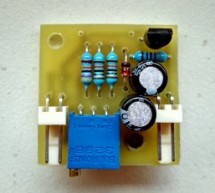 I published this schematic long ago in this article: Adjustable power supply and since then I made some improvements in PCB to make the board as small as possible. The idea is to be easy to attach the whole board to the heat sink which we want to monitor. The board is only 27mm x 27mm. 1. The C3 can be omitted, its purpose was to filter noises picked up by connecting cable between board and sensing transist ...
Read more

›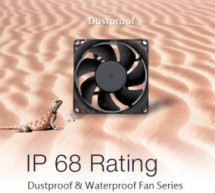 Still more noise and vibrations and in extreme case even a total malfunction – this is a typical "end" of the fan after a long-time operation in a dusty or corrosive environment. In a usual dry and relatively clean environment, this scenario is not that dramatic and high-quality fans hold on to work for many years without problems. However, it can be also said, that common industrial environment is quite fa ...
Read more

›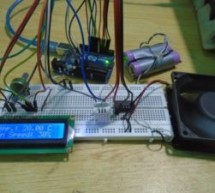 Here we are going to make a temperature controlled DC fan. DHT22 sensor is used to sense the room temperature and then we adjust speed of a DC fan/motor accordingly using PWM (Pulse Width Modulation). Arduino Uno is the heart of this project and a L293D driver IC is used to drive the DC fan/motor. Components Required Arduino Uno L293D Motor Driver IC DHT22 Sensor 16×2 LCD Display DC Fan/motor 9V Battery 10K ...
Read more

›
A hideaway cat litter box is a great way to make your apartment look like a residence for adults instead of crazy cat ladies. A hidden litter box in a cabinet, under a sink, or built in to some other furniture does a lot for appearances, but what about the smell? Here's how you can exploit the power of baking soda and embedded computers to keep your apartment fresh-smelling without disturbing your cat durin ...
Read more

›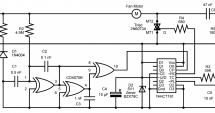 Most desk fans I have come across have three speeds: Full Speed, Almost Full Speed, and Off – useless if you want just a gentle air movement, and far too noisy if you are trying to get to sleep (in your bedroom of course, not at your work desk!). The squirrel cage induction motors they use have switches to two or more windings – and possibly a capacitor – to reduce the drive current. But unless the drive fr ...
Read more

›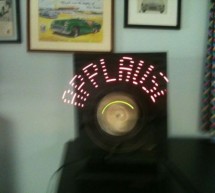 I saw these POV(Persistence of Vision)  devices on other Instructables and thought I would like to make one and I have always wanted my own "APPLAUSE" sign.  Next improvement will be to make it go on whenever I enter the room.  :)  Maybe have it say, "And here's Charlie !" But that is for another time. So I got a fan at a garage sale, did some reading , found some code and below is a video of my machine in ...
Read more

›
As summer is coming, I bought a USB fan from HuaQiangBei, Shenzhen. However, when I focus myself on work(or game), I could hardly notice its existence. If I can teach it how to think and execute its duty without my order, that will be more practical and fun! So roll your sleeves and follow me to refit a temp-controlled fan! Step 1: The structure of USB fan is pretty simple. When you break it down(or even yo ...
Read more

›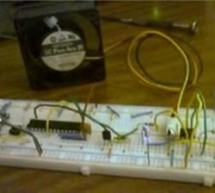 Oscar Gonzalez gives us a simple tutorial for speed controlling a PC FAN and reading a LM35 temperature sensor with an Arduino microcontroller. He covers the use of an optocoupler, PWM (Pulse Width Modulation) and reading analog voltages with the Arduino. He even has a video showing the fan speed control in action. This article was submitted by Oscar Gonzalez as part of the "Hobby parts for articles" progra ...
Read more

›