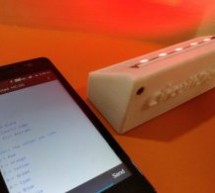 Smart Phone Controlled Arduino Mood Light with Alarm I recently purchased the Neo Pixel LED strip and was quite impressed by the way it works. The tiny LED's have an inbuilt driver IC which helps us to control each LED individually and can produce a wide spectrum of colors. Being a garish person who is obsessed with colours I really loved watching these tiny LED's changing colors so I decided to build somet ...
Read more

›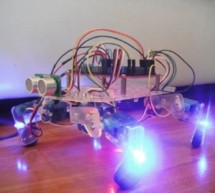 This is my first post on Instructables and I am super excited to share my knowledge! My original robot post is here: Spryo SpoonTail which is just my robot showing some tricks but with a tethered control. In this Instructable I am going to show you how to make a quadrapod of your own and using speech recognition via bluetooth to control your bot. Gotta thank Oddbot for introducing me to robotics and helping ...
Read more

›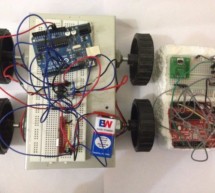 This gesture controlled robot uses Arduino,ADXL335 accelerometer and RF transmitter-receiver pair. We will divide the entire robot into 3 parts the transmitter,the receiver and the robot. The different gestures that have been mapped to the direction of the bot are- Hand parallel to the ground-stationary Hand tilted forward-forward Hand tilted backward-backward Hand tilted right-right Hand tilted left-left I ...
Read more

›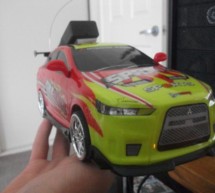 Required Parts: This project requires two Arduino boards which can be bought from http://www.adafruit.com/category/17 This project uses two Arduino Uno compatible boards. An L293D or other Dual H-Bridge Motor Driver chip will be needed to drive the motors of the RC car. This can be found here: http://www.adafruit.com/products/807 Finally, this project requires the RF transmitter (https://www.sparkfun.com/pr ...
Read more

›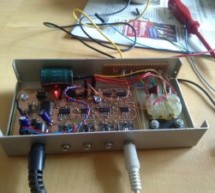 Motivation Though I am a musician I don't care for calling an expensive hi watt stereo my own. For years I have used a homebuilt stereo amplifier built around the TDA1554Q IC (basically just this chip in a nice box) and I am still very happy with the sound quality. This amp serves as a computer desk sound system, which acts as a radio/movie sound sytem as well. In the meantime the number of sound sources th ...
Read more

›
Nothing puts the fun back into coding like watching your very own creations come to life in the physical world. Luckily, with the current glut of high-tech toys and electronic gadgets on the market, it's never been easier to experience the thrill of designing your own hardware by modifying what's already available. A great way to get into the hobby is to wander the isles of your local toy store or browse th ...
Read more

›
The idea behind this project was very straightforward: design an inexpensive remotely controlled system capable of taking still pictures and uploading them to a remote file storage with a camera to be activated by either remote commands or sensor events. And after numerous brain storms the following solution has been found.In base configuration the system comprises of at least two parts: main (MCU) and tran ...
Read more

›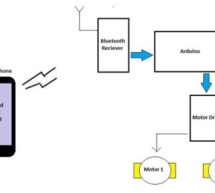 The Android phone that stays in your hand most of the time is useful in many other applications apart from Whatsapp, Facebook; appliances; monitor your health parameters. How it would be if it can control a Robot, which can assist in your daily work. With this project you can make a robot that can be controlled by an Android Phone, over Bluetooth Communication.The robot is built around Arduino interfaced wi ...
Read more

›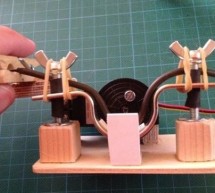 This instructable shows you how to make a pump using a servo motor and an Arduino Uno to transfer small amounts of liquids. The pump is a peristaltic pump which consists mainly of a motor, flexible tubing and a circular pump casing. Two rollers attached to a turning rotor press the flexible tube to the circular pump casing wall. As the rotor turns, the part of the tube under compression is pinched closed th ...
Read more

›
Vision The aim of our project is to be able to control a electrical switching process using a remote.The idea is to come up with an alternative to the conventional electric switch boards, using a wireless control mechanism, in an economic way.In other words, an Electric Switch Board is to be designed in which the switching is controlled by a remote.These kind of switchboards could replace the old ones and u ...
Read more

›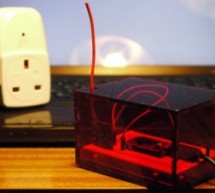 This is a very low cost and basic from of home automation allowing you to turn on and off lights and other devices using your computer or mobile phone. It has been built and tested use using UK power plugs, but the same protocol is used on many budget remote power switchers from around the world. You will need... A Spark Core wi-fi development kit A remote controlled mains sockets set * A 433MHz Transmitter ...
Read more

›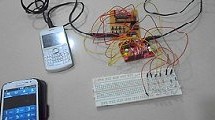 By this mobile controlled automation using Arduino you can perform switching operation of any load or device which is connected with the circuit. Before some days i posted about DTMF tone in mobile communication. Here i am using DTMF tone in this project. Visit following link for more information regarding DTMF. Suppose you are outside from your home or office and you forget to off any load like tube light, ...
Read more

›