https://youtu.be/pq3YFhjS-Wc Hey Makers, Lets make a Simple Quiz Buzzer using Arduino! Step 1: ​What We Can Do With It? What we can do with it? >Quiz Game Buzzer >Play Tunes and lots more…………. Step 2: Things Required >Arduino Uno (Buy From Amazon.in) (Buy From Amazon.com) >Buzzer (Buy From Amazon.in) (Buy From Amazon.com) >Switch (Buy From Amazon.in)(Buy From Amazon.c ...
Read more

›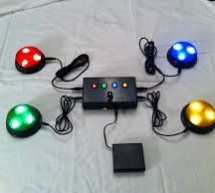 This article and circuit diagram show how to connect a buzzer to an Arduino when the buzzer operates at a different voltage to the Arduino. The buzzer may operate at 9V, 12V or some other voltage. Arduinos such as the Arduino Uno operate from 5V. All the voltages referred to here are d.c. voltages (direct current). The same circuit used here can also be used to operate a 5V buzzer when the buzzer draws more ...
Read more

›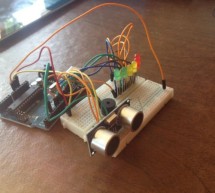 This is a simple guide on how to make a distance detector using an Arduino, a HC-SRO4 Ultrasonic Sensor, a Buzzer, and some LED's.  The ultimate goal of this tutorial is to use the buzzer and LED's to display how far the object is from the ultrasonic sensor. Step 1: Materials Needed The Materials needed for this project are:(1x) Arduino Uno (1x) Breadboard (1x) HC-SRO4 Ultrasonic Sensor (1x) Buzzer (2x) Gre ...
Read more

›
Jeopardy style quiz games are favorites for creating excitement and educational instruction at the same time.  Teachers, summer camp counselors, and even industry educators find this type of game to help generate interest and involvement from the participants. The idea behind the game is simple, but sometimes finding a device that will perform the "first to respond" lockout function can be problematic.  Her ...
Read more

›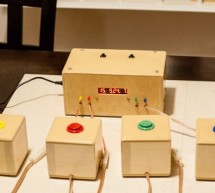 A good friend of mine who's a teacher was doing quizzes in her class making students compete to answer questions... resulting in them complaining they raised their hands before the others. I decided to give her this quiz show type buzzer for Christmas to solve her problems. When one of the players press it's button (the fastest player wins this), the led of the right colour lights up saying he's in control. ...
Read more

›