Battery lifetime is a key consideration for the development of the wireless sensor nodes that will populate the Industrial Internet of Things (IIoT). In many applications, the sensor nodes will need to be installed in locations that are difficult to reach let alone service. The sensor nodes need to be autonomous in terms of energy because it is too costly and difficult to run power lines to them or to have ...
Read more

›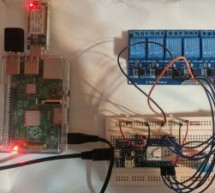 Wouldn't it be nice if you could start warming up the camp before you leave the house? How about using Alexa to do it for you! Things used in this project Hardware components Amazon Alexa Echo Dot × 1 Arduino MKR1000 × 1 ControlEverything.com Relay Shield for Particle Photon I²C 8-Channel SPDT 10-Amp This one says its an i2c relay shield, the one I used was just an opto coupler relay shield with 8 input pin ...
Read more

›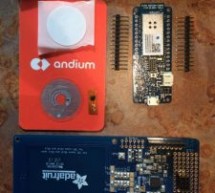 "You just say what the thing does and then you add '-er'." Replenisher keeps your fridge, office...stocked! Just scan! "I'm going on break!" Story TL;DR; This project utilizes the AmazonDRS Arduino library to initiate frictionless purchases on Amazon by scanning NFC tags. Looking for some help getting started with AmazonDRS Dash Replenishment for Arduino and still need to get your Amazon accounts setup, aut ...
Read more

›
University of California, Irvine researchers have invented nanowire-based battery material that can be recharged hundreds of thousands of times, moving us closer to a battery that would never require replacement. The breakthrough work could lead to commercial batteries with greatly lengthened lifespans for computers, smartphones, appliances, cars and spacecraft. Scientists have long sought to use nanowires ...
Read more

›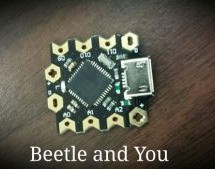 The DFRobot Beetle is one the latest innovations in minimalistic Arduino technology. About the size of a quarter, and the capabilities of an Arduino Leonardo, this tiny guy can minimize your projects with ease without having to sacrifice functionality. After working with the Beetle, I am going to show you some tips and necessary tricks I learned to get this little device working properly over a Bluetooth HC ...
Read more

›
A new "all-climate" lithium-ion battery can rapidly heat itself to overcome freezing temperatures with little sacrifice in energy storage capacity and power, researchers say. This advance might enable applications for which high-performance batteries are needed in extremely cold temperatures, such as electric cars in cold climates, high-altitude drones, and space exploration. EC Power is now creating all-cl ...
Read more

›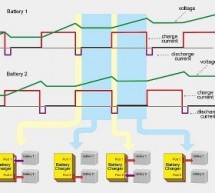 Any hobbyist can charge a battery quickly, but can you do it without an explosion, excessive heating or major degradation in battery cycle life? Well many companies have managed fast charging techniques  that typically use specialized algorithms. These algorithms take into account the chemistry of the battery and some sort of non-standard charging rate curve. Many device manufacturers and wireless op ...
Read more

›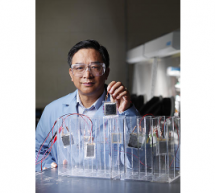 Dendrites – thin conductive filaments that form inside lithium batteries – reduce the life of these cells and are often responsible for them catching fire. Scientists working at the Pacific Northwest National Laboratory (PNNL) of the US Department of Energy claim to have produced a new electrolyte for lithium batteries that not only completely eliminates dendrites, but also promises to increase battery effi ...
Read more

›
Suppose that you need to test a 1.5V, AA-size alkaline battery. You can apply a short circuit and measure current, or you can measure open-circuit voltage, but neither method properly tests the battery. A suitable test current of approximately 250 mA gives you a more reasonable test. You can use a 6Ω resistive load at 1.5V, which produces an output voltage of 1.46V at an ambient temperature of 25°C if the b ...
Read more

›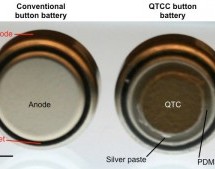 It can be a herculean task to get kids to eat their vegetables, but they'll happily chow down on things they aren't supposed to. If one of those things is a button battery, serious injuries can result in the form of burns to the esophagus or tears in the digestive tract. Researchers may not have found a way to stop kids swallowing button batteries, but they have found a way to make such culinary no-nos safe ...
Read more

›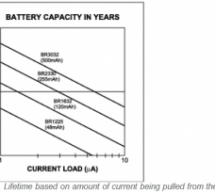 Abstract: The typical specification for lithium coin-cell batteries has been to provide a 10-year battery lifetime in the absence of system power. End users should evaluate the anticipated lifetime in their specific application, especially for those that exceed typical commercial environments or that need to last more than 10 years. This article gives the reader an overview of the major factors affecting th ...
Read more

›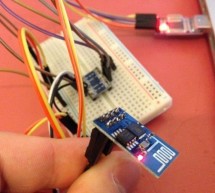 n the past few months ESP8266 has created a real revolution in the IoT space. I'm using it in a project that will hit Indiegogo in a month or so and you, of course will support me ☺ During the development process I've learned a lot and I want to share a part of it. Let's build cheap open WiFi finder together! Software NodeMcu firmware https://github.com/nodemcu/nodemcu-firmware ESP8266 flasher http://www.xe ...
Read more

›