Perhaps the most frequently used rechargeable batteries on the market nowadays – Lithium-Polymer (Li-Po) can be found also in our offer.
From the beginning of electronics, the world searches for an "ideal" rechargeable battery. So far such a battery doesn´t exist (maybe supercapacitors in the future), but Li-Po (Li-Pol) cells are quite near to an ideal in some aspects.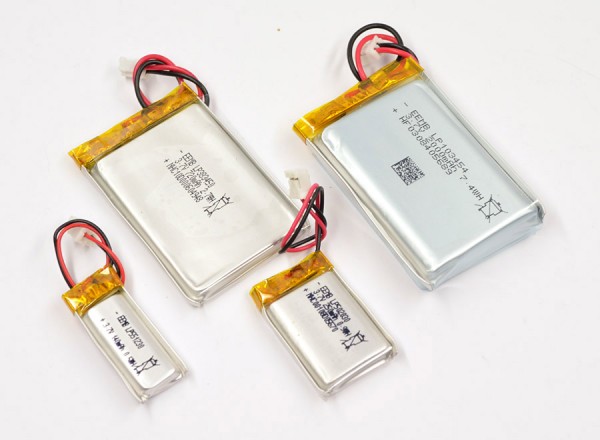 Very low self-discharge (approx. 5% / month), high voltage of a cell (3,7-3,8V average), high energy density and a low weight, considerably stable discharge voltage and a possibility to recharge anytime are one of the main advantages of Li-Po cells. Another benefits are advantageous flat shape, high variability in dimensions and a long lifetime. No wonder, that Li-Po cells have become no. 1 in consumer electronics, hand tools and in many industrial devices.
Perhaps the only drawback of these cells is their lower chemical stability at overcharging (in a corner case ending up with a fire). But that´s the case which is practically eliminated at a common operation with a suitable charging circuit (chip or a charger intended for Li-Po).
Basic principle at usage is not to exceed approx. 4.25V charging voltage and the battery is almost discharged at a voltage below approx. 3.0V (2.75V). On the very end of a discharge cycle, the inner resistance slightly increases, what can cause a slight heating of a battery at higher currents – it is a normal behavior. Charging is usually based on a method constant voltage/ limited current. In principle it´s possible to use the same chargers and charging circuits for Li-Ion as well as Li-Po cells.
For more detail: Try the most favorite type of batteries