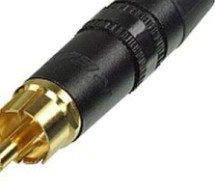 Connectors have in general one interesting feature - there are many similar or almost the same connectors on the market. Audio connectors are not exception in this. Even though they look the same, many times there are huge differences in price and mainly in quality. If we supposed, that every producer designs and makes his products likewise responsibly, then the cheaper one should be probably a good choice. ...
Read more

›
Being able to capture sound, store it and play it over and over again never fails to leave me in awe of its pioneers, from Thomas Edison to Alan Blumlein, the British electrical engineer who, in 1931, invented 'binaural recording' – what we now call 'stereo'. (Never heard of him? Blumlein amassed 128 patents in audio, radar and television that are still in use today, but tragically, was killed in a plane cr ...
Read more

›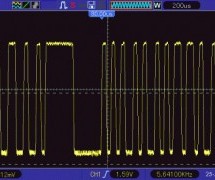 I needed a way to transfer data to AVR This blog post is about my adventures in implementing a stupidly simple way of transferring data over audio to AVR (and why not other embedded chips too), reaching speeds up to 12kbps with really tiny code and memory footprint, using the internal oscillator of Tiny AVR, with hardware parts that cost next to nothing. How it started Once I got an idea of a wearable messa ...
Read more

›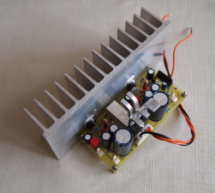 This project is an audio amplifier based on TDA2050 and LM1875. This is not an ordinary project, but an attempt to make a PCB that is suitable for TDA2050 and LM1875 and has all the necessary circuitry on board – power supply, speaker protection, delayed turn-on and fast turn-off. This is achieved using the convenient uPC1237 IC. TDA2050 and LM1875 are pin to pin compatible, the differences in their schemat ...
Read more

›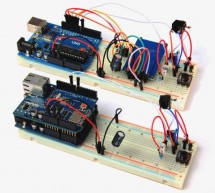 So far in this series we've had a diverse look at how Arduino can interact with a range of real-world devices from servo motors to ultrasonic range finders TVs to humidity sensors. Now we'll see if we could get the Arduino to make a few sounds. We'll actually do a bit better than that – we'll look at the importance of pulse width modulation (PWM) to microcontrollers by building our own digital audio player ...
Read more

›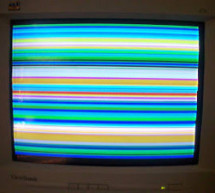 This post is a guide for people that are interested in my previous posts about dual monitor VGA hacking (see 1, 2 and 3). You will need: • A laptop or a computer with a VGA output • A breadboard (optional) and some wires or a strip board for soldering • Wire and breadboard jumpers (optional) • 2 female VGA connectors • 1 male VGA connector • up to 3 lots of 15x1 or 15x2 pin headers (optional) • An Arduino, ...
Read more

›
Have you ever struggled with audio settings in control panel in middle of a VoIP call? Or, wondered if the other guy can hear you properly? I have. My work requires great deal of remote conference calls using PC. The first thing I wonder always when starting is if my audio settings -- mic volume, input selection, mute/unmute, speaker volume -- are in order. Typically, they are not and it takes a while to fi ...
Read more

›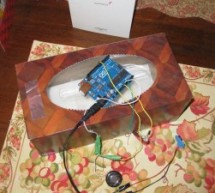 This simple device simple plays a small tune at a random interval, between 5 and 30 seconds when the lights in a room go off. It can be cleverly disguised inside a tissue box, or inside or under any number of household objects. This is a vary simple project (my first audio project) and requires vary few materials, most of which can be easily scavenged. If you are just starting with arduino or audio electron ...
Read more

›
Microsemi has announced a family of DSP chips. Called Timberwolf, it is described as a third-generation DSP architecture designed with a proprietary 4 MAC core, dedicated hardware accelerators, and two independent 16bit DACs in 64pin QFN and 56pin 3×3 CSP packages. "This field upgradable DSP platform, when combined with algorithmic firmware, can enable beam forming, multi-channel acoustic echo cancellation, ...
Read more

›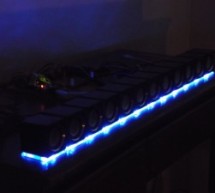 I already have one project where arduino outputs audio signal to USB speakers via software 10-bits PWM.  In first, I was not satisfied with quality of sound generated via PWM. There are just not enough speed in arduino engine  to run PWM well.  For example for 20.000 Hz audio, PWM has to be at least 2 – 3 times higher  above normal frequency range, or 40 – 60 kHz. If we multiply this value with 10-bits reso ...
Read more

›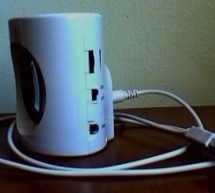 The easiest way to connect an audio signal to your arduino, is to build a simple 3 components (2 resistors plus cap) circuitry shown on the first drawings on right side. Disadvantage: there is no amplifier, and consequently sensitivity would be low, hardly enough to work with headphones jack output.  For low level signals, like output of electret microphone, amplifier is necessary. Here is the kit, which in ...
Read more

›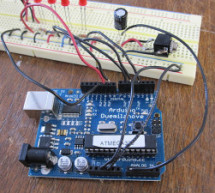 This project functions to display sound using vibration.  You plug your iPod, computer, or TV into it and get tactile feedback representing the loudness of the audio.  It can help deaf people to experience sound. Stuff you need: Arduino USB Cable Computer running Arduino software (www.arduino.cc/download/) Breadboard LEDs Pager Motors Three 100K resistors Six 220uF resistors 1K potentiometer 3-Conductor Ste ...
Read more

›