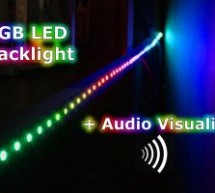 Welcome to my Instructables on how to build a RGB LED backlight for e.g. the back of your TV or desk. The Schematic itself is very simple since the WS2812 LED Strips are very easy to interface with e.g an Arduino Nano. Note: that you do not have to use the additional MSGEQ7 Audio Analyzer circuit if you only want the LED Backlight without audio visualization. I provided a detailed list o ...
Read more

›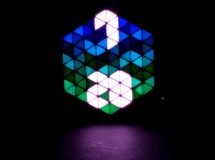 Just when we think we've seen all possible combinations of 3D printing, microcontrollers, and pretty blinkenlights coming together to form DIY clocks, [Mukesh_Sankhla] goes and builds this geometric beauty. It's kaleidoscopic, it's mosaic, and it sorta resembles stained glass, but is way cheaper and easier. The crucial part of the print does two jobs — it combines a plate full of holes for a string of addre ...
Read more

›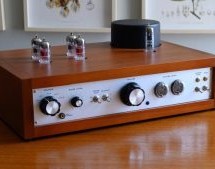 The pursuit of audiophile hi-fi is one upon which many superlatives and perhaps a little too much money are lavished. But it's also a field in which the self-builder can produce their own equipment that is as good or often better than that which can be bought, so it provides plenty of interesting projects along the way. [Justin Scott]'s tube preamplifier is a great example, with its novel use of a pair of N ...
Read more

›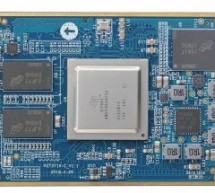 Ever since its foundation in 2007, Forlinx Embedded Tech. Co., Ltd. has been a major manufacturer and distributor of ARM technology-based embedded products such as Single Board Computers (SBCs), development boards, and many more to major companies all over the world such as Samsung, TI, Freescale, etc. Some of their SBCs are TI (Texas Instruments) Sitara AM3354 based on OK335xS-II and the ...
Read more

›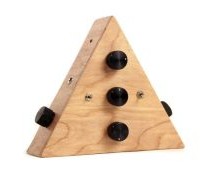 When one thinks of audio processing, the mind doesn't usually leap to an 8-bit micro. Despite this, if you're looking for some glitchy fun, it's more than possible, as [Amanda Ghassaei] demonstrates with the Arduino Uno in this 2012 throwback project. The build is designed for vocal effects, based on the idea of granular synthesis. This is where audio samples are chopped up into small chunks, called "grains ...
Read more

›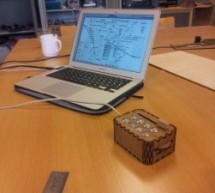 This instrument was build by Lieven Menschaert and Danny Leen using an Arduino Uno and some hardware components ( rotary encoder, potentiometer and simple iron bolts). The software running the actual audio and video is a Pure Data / GEM patch. Additionaly Echonest API was used to do the sample cutup. You can send any mp4 file to it and it returns a folder containing the sliced up .mp4 and ...
Read more

›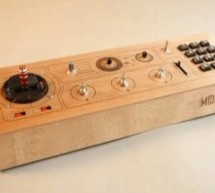 theMIDInator MIDI controller has been created by Switch & Lever using an Arduino Mega with its 54 digital IO and 16 analog pins to provide a wealth of inputs enabling data to pass onto a digital audio workstation (DAW) to create the actual sound. Watch the overview video below to learn more about the project and the build process when creating an Arduino MIDI controller. "What do you do when y ...
Read more

›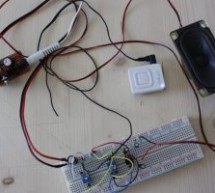 In most cases first project in electronics for beginners is building simple audio amplifier. That is because it requires small number of elements and not a lot of knowledge to build one. For low power amplifiers we could use integrated circuits like TDA family. But I will show how to make amplifier using operational amplifier. This amplifier is only to proof the concept. It real use can be as preamp for gui ...
Read more

›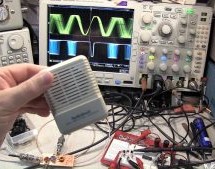 Compared to the simple diode needed to demodulate AM radio signals, the detector circuits used for FM are slightly more complicated. Wrapping your head around phase detectors, ratio detectors, discriminators, and quadrature detectors can be quite an exercise. There's another demodulation method that's not so common, but thankfully it's also pretty easy to understand: the pulse counting detector. As [Allan ( ...
Read more

›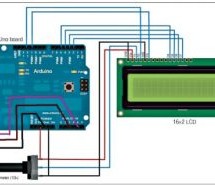 Presented here is an Arduino based audio meter that uses a liquid crystal display (LCD). A VU meter or standard volume indicator (SVI) is a device that displays a representation of signal level in audio equipment. In this project, the intensity of left-channel and right-channel audio signals provided as input to Arduino UNO board is displayed as bars on the 16×2 LCD. In this circuit, analogue input pins of ...
Read more

›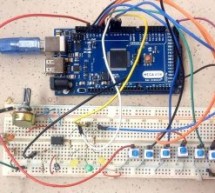 Hi guys, during the last few weeks, I've been working on reconnecting with my love for the guitar. Playing the box guitar was how I relax few years back before the saxophone took over. Going back to the guitar, after 3 years of rarely strumming a chord, I discovered amongst other things that I no longer knew how each of the string should sound, to put it in my friend's words, "My hearing was no longer tuned ...
Read more

›
Description The small 2 Channel amplifier constructed around Sanyo's LA4445 IC delivers 5.5Watts +5.5 Watts at 4 ohm load, supply in 12V DC 2Amp, Input impedance 30K. Specifications Dual Channels output : 5.5W Minimum External Parts Very small pop noise at the time of power supply ON/OFF Good ripple rejections Small residual noise Built-in protectors 1. Thermal Protector 2. Overvoltage Surge Protector Stand ...
Read more

›