FiDUS Power, the technical power supply distributor specializing in innovative solutions and new products that benefit system designers as they seek to differentiate their end products, sets a new bar for the size of external power supplies with the launch of the new model GDA200. The use of Gallium Nitride (GaN) rather than silicon semi-conductor switches provides increased efficiency, reduced heat losses and operation a higher-frequencies, allowing the size of magnetics and other components to be reduced. The result is an amazingly-compact 200W external desktop power supply with market leading 12.5W/In³ power density.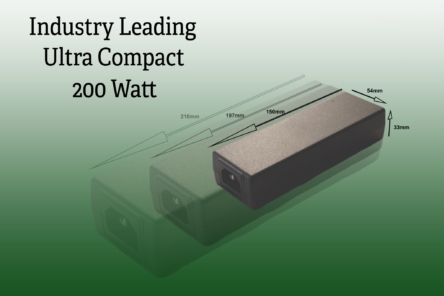 The FiDUS GDA200 will be welcomed by system designers looking for a sleek power supply to accompany and enhance innovative new products that deliver an image of quality and leading edge technology. It will be advantageous to designers of portable equipment and instrumentation in markets including; high end audio, test and measurement, bench top and audio broadcast equipment.
The ultra-compact size is also advantageous to customers incorporating external power supplies into their designs to speed up the approvals process. The very small size, just 150 x 54 x 33mm (5.9 x 2.12 x 1.3") may also reduce total system package size resulting in higher shipping and storage densities, especially when the closest competitive product is some 2 ½ times larger.
Read more: ULTRA-COMPACT 200W DESKTOP POWER SUPPLY FROM FIDUS FEATURES GALLIUM NITRIDE SWITCHING