iWave Systems, a leader in embedded systems and solutions, will be launching a new System on Module based on NXP® i.MX8M Mini/Nano application processor. SOM will feature a powerful combination of 4 x ARM Cortex®-A53 @ 1.8GHz*, 64-bit processor and 1 x ARM® Cortex®-M4 core @ 400 MHz. The powerful SoC coupled with other advanced features such as flexible LPDDR4 & eMMC memory options, sophisticated audio, video, graphics, high speed wired/wireless connectivity and a wide range of I/O interfaces makes it ideal for delivering low power and high performing solutions for demanding embedded applications. This SOM provides comprehensive features yet cost-effective solution in a small and highly integrated SODIMM form factor and is ideal for enabling innovations in IoT, portable hardware, video /audio streaming, industrial HMI, Home Automation etc.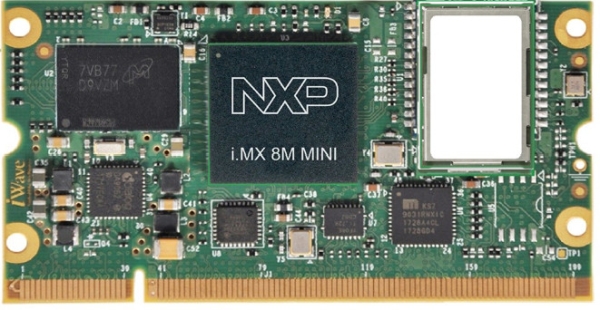 i.MX8M Mini/Nano is NXP®'s first embedded SOC built using advanced 14LPC FinFet process technology. The SOM can provide enhanced video/audio experience by combining media specific features such as 1080p60 VPU, GC Nano ultra 3D graphics, GC320 2D graphics, MIPI DSI, MIPI CSI interface and extensive audio interfaces including I2S, AC97, TDM and SPDIF. SOM can easily be connected to the network with the help of a wide range of high-speed interfaces and connectivity options such as USB, PCIe, Dual Gigabit Ethernet and on-board Wi-Fi 802.11a/b/g/n/ac + BLE v4.2 Combo Module. It runs Linux 4.0 and Android Oreo*.
Highlights
Cortex-A53 @ up to 1.6 GHz
Cortex-M4F @ 400 MHZ
64-bit Armv8-A architecture
1080p60 VP8, 1080p60 VP9, 1080p60(AVC/H.264) Encoder & 1080p60 (HEVC/H.265, AVC/H.264) Decoder VPU
GCNanoUltra and GC320
Wi-Fi 802.11a/b/g/n/ac + BLE v4.2
Dual 1000/100/10 Mbps Ethernet (One is optional)
2GB LPDDR4 memory (Expandable)
Modular & Compact SODIMM form factor 67.6mm X 37mm
Each cores of i.MX8M Mini SOM consists of 32 KB L1 Instruction Cache, 32 KB L1 Data Cache, Media Processing Engine (MPU) and Floating Point Unit (FPU).The ARM® Cortex®-M4F microcontroller can operate in low power standby mode, independent of the main processor and is proficient in handling real time system monitoring. The M4F incorporates 16 KB L1 Instruction Cache ,16 KB L2 Data Cache and 256 KB TCM.The SOM is equipped with high speed on-chip RAM (256 KB+32 KB) and 256 KB Boot ROM and features NXP'S highly efficient power management units for ensuring prolonged battery life. The SOM ensures secured infrastructure with Arm Trust Zone architecture, Resource Domain Controller and High Assurance Boot.
Read more: SODIMM MODULE FEATURES I.MX8M MINI/NANO WITH UP TO 8GB RAM