u-blox has introduced the JODY-W2 multiradio module, a feature-rich and compact wireless module for automotive applications. by Ally Winning @ eenewsembedded.com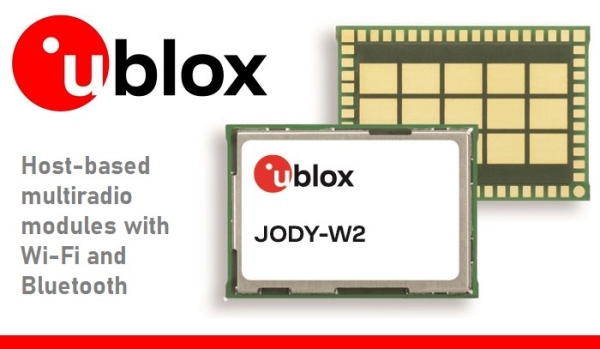 Measuring only a 13.8mm x 19.8mm to address the space constraints that car manufacturers face, the module can operate in temperatures from -40ºC to 105ºC. The module is also well suited for industrial applications.
The robust module uses the latest AEC-Q100 qualified wireless SoC technology. A variant is available for industrial control and monitoring applications without AEC-Q100 certification. It offers Wi-Fi 5 (802.11ac), covering both the 2.4GHz and 5GHz frequency channels in addition to WPA3-compliant security mechanisms. It also has Bluetooth 5 capabilities, with both Bluetooth Classic and Bluetooth low energy. Separate antennas are used for Bluetooth and Wi-Fi.
Specifications
Dual band Wi‑Fi 2.4 GHz and 5 GHz 802.11a/b/g/n/ac
Dual‑mode Bluetooth 5 (Bluetooth BR/EDR and Low Energy)
Supports operation at 105 ° C
Simultaneous access point (AP), station (STA), or Wi‑Fi Direct (P2P)
Optimized for parallel operation of Wi‑Fi and Bluetooth
JODY-W2 modules are able to provide an access point for connection with up to 8 devices with high enough enough bandwidth for video streaming through several devices at once. It can support parallel transportation of Wi-Fi and Bluetooth signals, and can simultaneously act as an access point and as a station, or conduct peer-to-peer communication.
Read more: SMALL HOST-BASED MODULE WITH WI-FI 5 AND BLUETOOTH LOW ENERGY 5