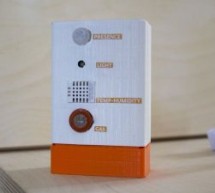 Connect a basic sensor station to Arduino Cloud and visualize real time data. Story Following this tutorial you will build a little tower with several sensors and connect it to Arduino Cloud to visualize Real time data. Connect to Arduino Cloud Create an account and login to Arduino Cloud. If this is your first time on Arduino Cloud we suggest to follow the getting started flow to download the Arduino Cloud ...
Read more

›
Abstract Established and already commercialized energetic materials, such as those based on Ni/Al for joining, lack the adequate combination of high energy density and ductile reaction products. To join components, this combination is required for mechanically reliable bonds. In addition to the improvement of existing technologies, expansion into new fields of application can also be anticipated which trigg ...
Read more

›
A new "all-climate" lithium-ion battery can rapidly heat itself to overcome freezing temperatures with little sacrifice in energy storage capacity and power, researchers say. This advance might enable applications for which high-performance batteries are needed in extremely cold temperatures, such as electric cars in cold climates, high-altitude drones, and space exploration. EC Power is now creating all-cl ...
Read more

›
(Phys.org) —Engineering researchers at the University of Arkansas have designed integrated circuits that can survive at temperatures greater than 350 degrees Celsius – or roughly 660 degrees Fahrenheit. Their work, funded by the National Science Foundation, will improve the functioning of processors, drivers, controllers and other analog and digital circuits used in power electronics, automobiles and aerosp ...
Read more

›