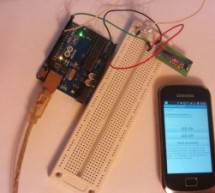 In this tutorial you'll learn how to use a bluetooth module and MIT's app inventor to create a wireless serial link between an android phone and an arduino board. Here is a short video showing an example app I created. I'll describe how to do the wiring, write an arduino sketch that can accept basic commands and send them and how to write the app itself. I asume you're already familiar with some of the basi ...
Read more

›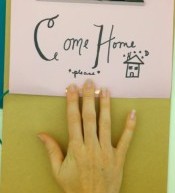 Can you believe that we live in an age where you can touch an object (any object - if it has metal on it) and a light will turn on in your loved-one's space - even if they live in a different city, state, or country!? You could tell your loved ones or friends when you're missing them, or when dinner is ready. The world is yours! We're going to show you how to connect spaces using an online websockets connec ...
Read more

›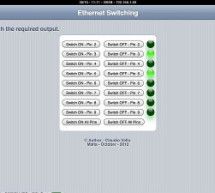 Aim: Switch relays from the ethernet or the internet, using your mobile, tablet or computer with a nice graphical user interface. Update V4.06 Please read the below steps to Step 2 if you are viewing this article for the first time. Please go to step 3 for the latest revision which is V4.06 Material: * Arduino MEGA 2560 * Arduino Ethernet Shield * Relay board * RJ45 cable Tools: * Arduino Software version 1 ...
Read more

›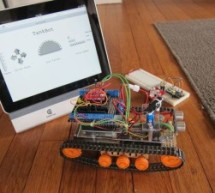 Do you remember a game called Tank Wars? This is an attempt to make a physical version of that classic arcade game. You, the player drive an Arduino powered tank and fire a laser at a target. This project uses an Arduino to control a tank through a web page. The tank is driven from a control panel on a web page, that is communicated to over a  WiFly. The tank uses a Parallax Ping to avoid obstacles, a servo ...
Read more

›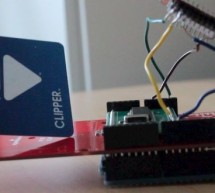 Music party is a new way to listen to music with others. By tapping an RFID/NFC device that is synced to a Facebook account on an Arduino RFID reader shield and sending that unique ID to Music Party server using the Arduino WiFly shield, we can automatically listen to the favorite music of everyone who taps in. Go to the Music Party website to see an example. About Lifegraph Labs My name is Jon and I'm a me ...
Read more

›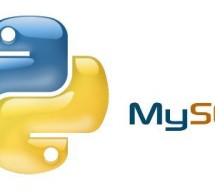 Here's a brief tutorial that should get you up and running interfacing your Adruino with a MySQL database. For the sake of this tutorial, I am assuming you know how to set up and use MySQL. This tutorial does not require much Python experience, but you will be required to install two Python libraries for this project. Glad we're on the same page, let's get to it! Step 1: Downloading and Installing the Pytho ...
Read more

›
Economical alternative to original Arduino ethernet shields, allows data rates up to 10 Mbps and is achieved with a traditional assembly components. One of the most interesting shield that you can mount on the Arduino platform is certainly the ethernet shield, because enable numerous networking applications such as remote control of systems and users, web access and publication of data, and more yet, the si ...
Read more

›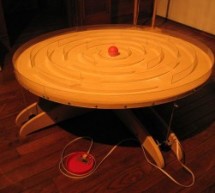 This project was the result of an urge to contribute something to the Creative Games section of my kids' elementary school fair. The kids loved it for it's simple old-school game aesthetic mixed with Wii-style and Kinect-style video game control. It's a spin-off project of an earlier Ball & Plate experiment mentioned here in the Instructables forums. The machine is an over-sized (1200mm (48") diameter) ...
Read more

›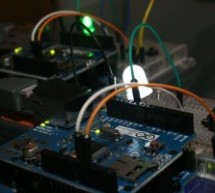 This instructable shows the principles involved in making devices to control home automation over the internet. We're going to construct a device (or several of them), that talk to each other over the internet to control lights, motors for curtains/blinds, power sockets etc. In contrast to devices controlled from a web browser or phone, these are designed to be simple, Arduino based devices that are capable ...
Read more

›
In this example, you will use your Ethernet Shield and your Arduino to query a Network Time Protocol (NTP) server. This way, your Arduino can get the time from the Internet. Circuit The Ethernet shield allows you to connect a WizNet Ethernet controller to the Arduino via the SPI bus. It uses pins 10, 11, 12, and 13 for the SPI connection to the WizNet. Later models of the Ethernet shield also have an SD Car ...
Read more

›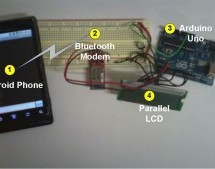 This project slightly modifies the Google Android sample app called "Bluetooth Chat" so you can type a message in the Android app and that same message will appear on an LCD attached to an Arduino Uno. Functionality:  Android  talks to Arduino 1. Run the Android "Bluetooth Chat" sample app (after we modify the app in this instructable).  Type a message in the app's text box and press the "send" button.  The ...
Read more

›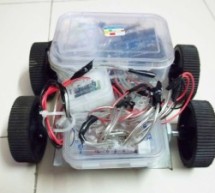 When I was in the 8th grade, I was intrigued while playing the motion games on Nokia 5800. I was thrilled, how I could control the racing car by only tilting the phone. I used to dream of making this same car in the real world. Now, in 11th  grade ( Age 17) having got an Arduino Uno and learnt how to program it, I was able to build my "Hercules" robot. Hercules is the name given to my motion controlled robo ...
Read more

›