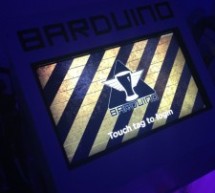 Got an Arduino? Like parties / alcohol? Can't be bothered to make your own bar quality cocktails? Make a Barduino! Its back, with new features in v2.0: Facebook integration - Facebook registration Page to track and graph drink consumption Touchscreen with gesture support RFID user login - sync with Facebook profile photo SQL drink database After party drink stats Illuminated drink dispenser The fully automa ...
Read more

›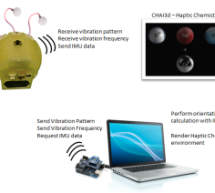 The goal of the project is to come up with an affordable yet generic vibrotactile feedback device to be used for educational purposes. A chemistry learning environment is developed to demonstrate a specific application of our device, in which users can manipulate ions and feel the corresponding electromagnetic attraction and repulsion forces through the vibration feedback. The entire project went well and p ...
Read more

›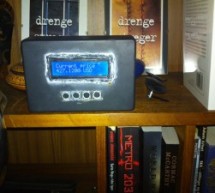 Hello everyone! I decided to create this tutorial on how to make a Bitcoin Price Ticker. Well, this is only a prototype and I will make a smaller edition with a more pleasant design and some other features at a later time. However, this serves as a nice proof of concept and hopefully it will give you some ideas for your own improvements. This Bitcoin Price Ticker will show the price of Bitcoins in 3 differe ...
Read more

›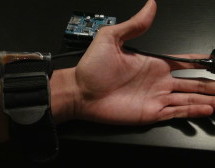 Step 1: The Sleep n' Tweet Now I am lucky enough to work at the greatest company in the world as a University of Waterloo, co-op student. It might not even be a company you've heard of yet. They're named Upverter and we are trying to change the way people design, build, share and collaborate on electronics. My job (also the coolest job in the world) is to find interesting problems that either have been or c ...
Read more

›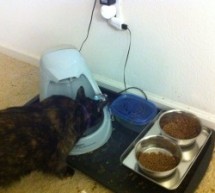 You give your pets everything: Food, water, a home, toys, and love. Why not give them a twitter account? This project allows you to monitor your pets' eating habits and receive alerts when their supplies are low. It's also a cute, fun way to learn how to interact with the Arduino, Twitter, sensors, and Ethernet. Let's get started! Step 1: The Parts Here is the part list I used to make it work. Depending on ...
Read more

›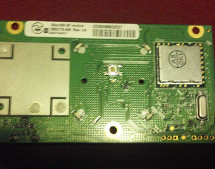 This instructable will go over the steps to connect a RF module from an RROD xbox to your computer so you can use a wireless controller with your computer. ******DISCLAIMER******* DONT TRY THIS IF YOU DONT HAVE ANY EXPERIENCE WITH ELECTRONICS/SOLDERING OR COMPUTERS IM NOT RESPONSIBLE IF YOU SCREW UP.... now that we've gotten that out of the way Step 1: Soldering .... First strip the usb cable, inside there ...
Read more

›
This instructable will show you how to control your computer's keyboard and mouse with an Android app via bluetooth to an Arduino BACKGROUND Ever wanted to control your computer's mouse/keyboard functionality without having to actually sit in front of it? I do all the time. For instance, I often hook my laptop up to the TV in my living room to watch a show on Netflix. Well, roughly 20 minutes later, when th ...
Read more

›
The Android Open Accessory Protocol makes it possible for you to create custom Arduino-based accessories for your Android phone or tablet. Attend this session to learn how to get started, the hardware & software required and how Handbag makes development easier. Content will be useful whether you have previous Android or Arduino experience or neither. ...
Read more

›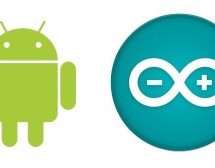 Arduino + Android Normally smartphone events are tightly coupled to your phone device itself. When your cell phone is ringing, your phone speaker plays a ringtone. When you get a new text message, your phone displays it on its screen. Wouldn't it be thrilling to make thoses phone events visible somewhere else, on your wearable, in your living room, on your robot, in your office or where ever you want it to ...
Read more

›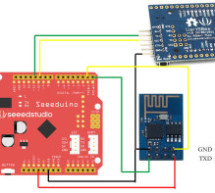 Overview ESP8266 is a highly integrated chip designed for the needs of a new connected world. It offers a complete and self-contained Wi-Fi networking solution, allowing it to either host the application or to offload all Wi-Fi networking functions from another application processor. ESP8266 has powerful on-board processing and storage capabilities that allow it to be integrated with the sensors and other a ...
Read more

›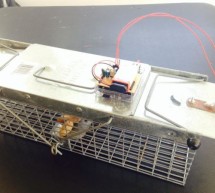 Havahart traps are really nice if you have pests to rid your home of but you don't feel the need to do this through means of killing the animal. The problem we are faced with is constant monitoring of the trap. If you forget to check back frequently (usually at least once a day), you risk having the animal dying in the cage simply due to shock or anxiety. As a result, you end up being more cruel to the anim ...
Read more

›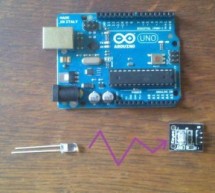 Hi all, For a project, I was looking for a cheap solution to send data from an Arduino to an other one. The serial port was already taken, and my transmission (unidirectional) needed to be wireless. My researches has brought me to discover these kinds of radio modules (433MHz). They were available on the net, but I was still looking for something else. So, I remember that I have in my stock an IR receiver w ...
Read more

›