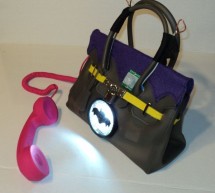 What a girl wants. What a girl needs.  What's more exclusive and has more cachet than scoring a Birkin bag? Pow!!! A Batgirl Birkin bag! Holey Haute Couture, Batman! Yes, you too can knock off a version of this famous bag.  Okay, even mine started out as a knockoff so you ain't doing anything iffy by copying another knockoff. No need to worry about the caped crusaders coming after your Fn a... wait, maybe t ...
Read more

›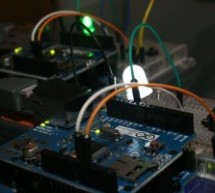 This instructable shows the principles involved in making devices to control home automation over the internet. We're going to construct a device (or several of them), that talk to each other over the internet to control lights, motors for curtains/blinds, power sockets etc. In contrast to devices controlled from a web browser or phone, these are designed to be simple, Arduino based devices that are capable ...
Read more

›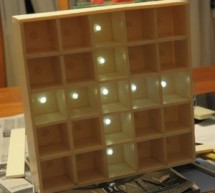 Yes, I know this has been done before, but I wanted to build my own, using as few parts as possible.  I built this as a table top or wall mount model, but it can be scaled up to make a coffee table.  I built it as a study for a more ambitious project, which will be an 8x8 RGB coffee table.  In designing this project, I wanted to keep the part count and cost as low as possible, and also to design the softwar ...
Read more

›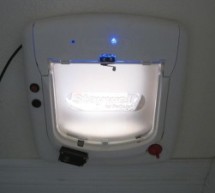 The Problem: You want to restrict the time when your pet is allowed to go outside. This could be because the neighborhood is not safe for your cat or small dog at night (marauding coyotes comes to mind). But you would like your pet to be able to come in at any time. The Solution: Pet Curfew, an arduino controlled pet door, with real time clock, cat status led light and servo latch. Video here. Step 1: You w ...
Read more

›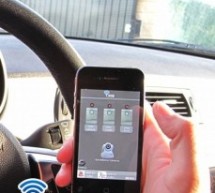 What do I need to start? The hardware requirements to start is: *Note: where can I purchase the material  with all the components to build myself the system: http://iwup.altervista.org/shop/reference_list.pdf 1.-) Arduino UNO with USB cable 2.-) Ethernet Shield Arduino 3.-) Relay (for arduino 5 V) 4.-) Router Belkin (we recommend N150 or N300), also TPLink models( we recommend TL-WR740N). See TPLink model c ...
Read more

›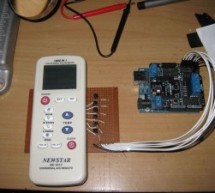 I was supporting a group of student on their graduation project. One of the difficulties they faced was on controlling an A/C unit with Arduino microcontroller. The first experiment we tried to work it out was by record the A/C remote control beam signal for each needed button by using the IRrecvDump code with IRremote library for Arduino (https://github.com/shirriff/Arduino-IRremote). Then, use these signa ...
Read more

›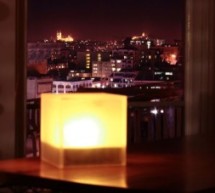 How's the world feeling right now? This box tells you. Powered by: an Arduino, a WiFly wireless module, an RGB LED, Twitter.com and a 9v battery. I'm a news junkie. I want to know everything that is going on in the world as soon as it happens. I want to wake up and know immediately if something big has happened overnight. However, I'm an extraordinarily busy man; I don't have time to read news feeds; readin ...
Read more

›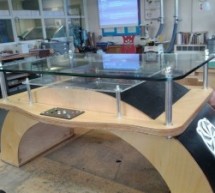 One quick fore note: this is my first Instructable and my first large Arduino project, so if you see any stupid errors or have an idea of how things could be done better, then please let me know. Now that that's out of the way I'll begin, I started designing this around September last year as my A2 Product Design project and thought that it might make a good Instructable once it was finished. The design of ...
Read more

›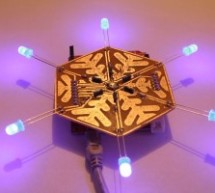 Please vote for me in the Holiday Gift contest and the Make it Glow contest! First, this started out as a gift, and not an instructable. So please excuse some hand waving here and there as I do not have any pictures of the etching and drilling portions. Second, this is for my dear dear wife. Yep, I got lucky enough to have a wife who likes to solder. We found out this summer when out of the blue she asked m ...
Read more

›
A couple of weeks ago, I published a great little controller module that provided 6 relays able to be controlled from a computer via a network.  After I published it, I got to thinking that the same basic design, with a couple of changes could be pressed into service as a garden watering system controller.  So, I got to work, modified the design, and here you have it...  A sprinkler controller that runs by ...
Read more

›
Hi there! As I've almost finished my studies at Faculty of Engineering, I had to make a graduation project and my thought was to make a jaw-dropping thing (I know that's hilarious :D ) to show everybody that I'm a good prototype maker and I can turn ideas into real and useful things. I know GSM controlled home automation systems are widely used and can be found easily on internet, but as we all know, the pr ...
Read more

›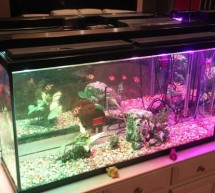 Version 0 My first attempt at an LED Aquarium light started as an excuse to buy some of those LED light strips off of eBay.  I gutted the old 18" fluorescent fixtures and soldered together row after row of 18" RGB LED strips.  They mounted to a thin aluminum plate I screwed into the old light housings.  I mounted one of those remote-controlled RGB LED controllers in there with a 12V 5A power brick.  The rem ...
Read more

›