OK, I know that sounds weird, but bear with me for a moment.  My Pops really enjoys two things; 1) channel surfing and 2) farting. So one day I was over at http://hackaday.com/ and read about a guy who used his Arduino to turn a TV on and off with one of those brainwave reading headsets.  Then later on that same day I was here at Instructables and a fellow had made an office chair that twitters every time h ...
Read more

›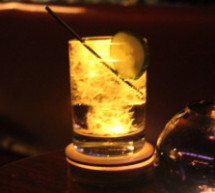 Siduri named after the Sumerian god of happiness and merriment, is a smart coaster for your drinks. It recognizes when a glass is near empty and then glows yellow to alert waiters that you will be in need of a refill soon. Designed specifically for lounge and club settings, Siduri helps nightlife revelers politely draw the attention of barmaids and helps bartenders to keep the drinks flowing. The coaster is ...
Read more

›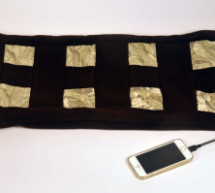 Lusha and May created a "Text-Mat". This surface can allow the user to write and send messages using one's feet. This text-mat is designed to send secret messages during meetings or classes. The design utilizes conductive fabric and thread, as well as a flora-board. The program contains 7 preset sentences. The user can press a button to select the appropriate sentence and then a final button to send. Please ...
Read more

›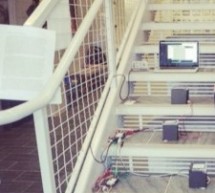 This is a small scaled musical stairs! It was a project that had a deadline; had only two days to build it. So, it is a very small scaled project, but still serves its purpose! IR Sensor (receiver) that I used is TSOP38238 from Adafruit, and the IR LEDs are also from Adafruit. The little black boxes have the IR LEDs in them (made the boxes to help people avoid stepping on the LED), the sensors are all attac ...
Read more

›
Stash your valuables where no one will ever suspect. Wall outlets are perfect for stashing valuables since you have tons of them at home. You must be crazy enough to search every household outlet for a secret stash. Probably, no one would even think of searching outlets! :)) BTW, it requires a digital key, such as an Arduino, to open the hidden outlet safe. The Super Secret Key (a.k.a Suicide Key) The vault ...
Read more

›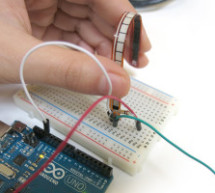 Now that you're up to speed on using Arduino's inputs and outputs, this Instructable will give you everything you need to get started using sensors to trigger MIDI notes from Arduino. This post is the last installment in a series of workshops I led at Women's Audio Mission. The first two classes are Intro to Arduino and Working with Arduino Inputs and Outputs. Parts List: (1x) Arduino Uno Amazon or you can ...
Read more

›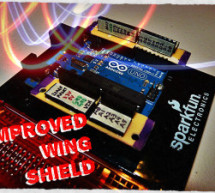 Not too long ago, I made my own version of the popular Wing Shield out of some spare parts and scraps of perf board I had laying around. Instead of the screw terminals that the regular wing shield uses, I used some female headers that I soldered to some Arduino stackable header pins. This time I did something a little different and it makes the new ones much better. I figured out that I can bend the pins on ...
Read more

›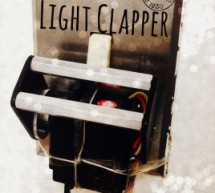 This is a project that I quickly made one night because I wanted to 'clap' to turn off and on the light in my room! I have a small room for myself, so I basically have no other noise around. So, I was able to use an amplifier, which finds the value of the sound level in its surroundings. I hooked this amplifier, MAX4466 from Adafruit, and a servo that I had from a while ago. This project took some time to e ...
Read more

›
Sous-vide cooking is a great new way of cooking food. I will not explain why and how it works here... for great recipes and explanations, you can check out those guys : http://modernistcuisine.com/2013/01/why-cook-sous-... Unfortunately, a good (and I mean precise to the half °C) sous-vide machine is very very expensive (500, 1000$ or more). If you wonder why you need such precision, I suggest you check thi ...
Read more

›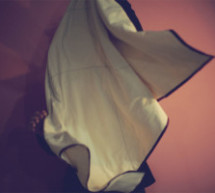 A motion sensing soft-circuit interface. The following instructable will guide you through the construction of your own personalized Nama Instrument. I'd love to hear some feedback. Hope you like it and it serves you somehow! : ) Access http://www.viraseres.com/nama to download the project's open source files and access the full description of the project. INTRODUCTION: Nama Instrument is an open source hyb ...
Read more

›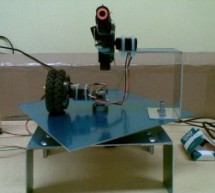 *NOTE* THIS PROJECT IS DONE BY A GROUP OF STUDENTS FROM SINGAPORE POLYTECHNIC. Concept: Trigger gun when laser is blocked by intruding object. Note: Tilting is included for expandability but not used in this project. Skill Level: Basic soldering and basic metal works Things You Need: Toy Gun(Any will do, preferably a semi-auto) Continuous Rotation Servo Motor Servo Motor Servo Arms and Wheels Arduino Metal ...
Read more

›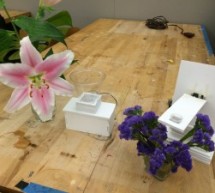 Hi everyone, Lucy Matchett, Nicole Yi Messier, and Joselyn McDonald (Snax_and_Macs) made a remote flower-watering device so you can water your loved ones' plants when you water your own. We used Arduinos, a photoresistor, a servo, Arduino and Processing sketches, Spacebrew, and a little elbow grease to put it all together. We've posted the instructions, and the link to our gitHub in order to get the code. W ...
Read more

›