Hi! In this tutorial you will learn to make a mood lamp with arduino. I know that you may have seen a lot of mood lamp projects with arduino, but I wasn't very satisfied with them because they all change the color very abruptly. So, I decided to make a smooth mood lamp and I also made it to turn on only when the room is dark. This project is good for those who are beginners in the arduino's world. Step 1: M ...
Read more

›
This project used the Si470x FM radio receiver and an ardurino to make an over the counter kitchen radio. These parts had been purchased for a different build that unfortunately met a premature end. The concept for this project is simple. Play my favorite news and music radio stations while having a form factor that does not take up space on the kitchen counter. I have a small push button that toggles betwe ...
Read more

›
This is a little art project I made with 95 RGB LEDs arranged in a 3D cylinder shape, sitting atop a microcontroller-based driver circuit. The LEDs are individually addressable, and when you power it on, the software cycles through a series of animations, e.g. various moving rainbowy patterns, "rain", "fireworks", and so on. It doesn't serve much of a purpose but it is kind of cool to look at. The hardware ...
Read more

›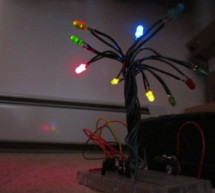 Ever wanted an LED tree? Well now you can have your LED tree and eat it too (no, wait, you probably shouldn't).. Step 1: Gather the parts You will need: 1x ATtiny85 10x male header pins Solid core wire, 2 colors A bunch of LEDs 1x Arduino Uno to program the ATtiny Step 2: Program the ATtiny To prep the Arduino for programming the ATtiny, follow the guide on this page. After you have done that, upload this s ...
Read more

›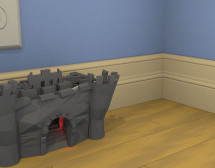 There are a lot of things this world needs at the moment.  One of them is a better mouse trap.  Mice are getting smarter every day and if we're not careful we'll end up with Planet of the Mice.  Luckily, with the help of a Makerbot Replicator 2 (its enormous 410 cubic inch build volume and 100 micron resolution, "100 microns!") we can tackle this problem.  And maybe even have a little fun doing it. The conc ...
Read more

›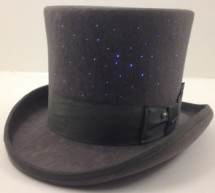 Top hats are cool; just like bow ties.  Not only are they stylish, but they give you a lot of room for incorporating techno goodness.  I recently had cause to buy a tuxedo, which necessitated a kilt, and then a top hat.  You know how it goes.  To the tux I added silver buttons, the kilt was exemplary on its own, so only the top hat needed some flash.  I decided that since my head is generally in the stars, ...
Read more

›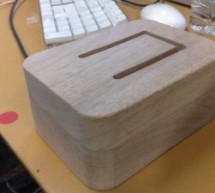 Knock Block: a modern knocking framework Man has long wrestled with Time. Also, with knocking on things and not getting the time of day. We propose a knocking platform through which these fundamental needs are met. This is illustrated with the Knock Block KUI and accompanying Clock Knock Block application. The Knock Block possesses realistic knocking action with a human-like variation in frequency and ampli ...
Read more

›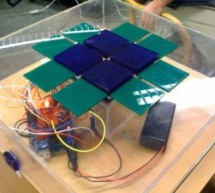 Project by CU Boulder Thinks That Think students: Michelle Bourgeois, Charles Dietrich, and Ben Link Imagine having a safe in which the combo is any small object of your choosing.  Perhaps it's your favorite coffee mug, or a bat man figurine.  This project is based on this idea, using the weight and placement of your "key" object(s) to determine the combination for a safe. This safe uses an array of force s ...
Read more

›
OK, I know that sounds weird, but bear with me for a moment.  My Pops really enjoys two things; 1) channel surfing and 2) farting. So one day I was over at http://hackaday.com/ and read about a guy who used his Arduino to turn a TV on and off with one of those brainwave reading headsets.  Then later on that same day I was here at Instructables and a fellow had made an office chair that twitters every time h ...
Read more

›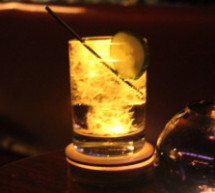 Siduri named after the Sumerian god of happiness and merriment, is a smart coaster for your drinks. It recognizes when a glass is near empty and then glows yellow to alert waiters that you will be in need of a refill soon. Designed specifically for lounge and club settings, Siduri helps nightlife revelers politely draw the attention of barmaids and helps bartenders to keep the drinks flowing. The coaster is ...
Read more

›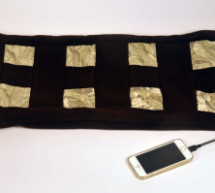 Lusha and May created a "Text-Mat". This surface can allow the user to write and send messages using one's feet. This text-mat is designed to send secret messages during meetings or classes. The design utilizes conductive fabric and thread, as well as a flora-board. The program contains 7 preset sentences. The user can press a button to select the appropriate sentence and then a final button to send. Please ...
Read more

›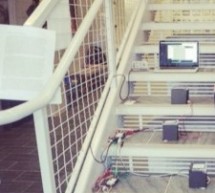 This is a small scaled musical stairs! It was a project that had a deadline; had only two days to build it. So, it is a very small scaled project, but still serves its purpose! IR Sensor (receiver) that I used is TSOP38238 from Adafruit, and the IR LEDs are also from Adafruit. The little black boxes have the IR LEDs in them (made the boxes to help people avoid stepping on the LED), the sensors are all attac ...
Read more

›