The world's fastest 100% open-source hardware single-board computer.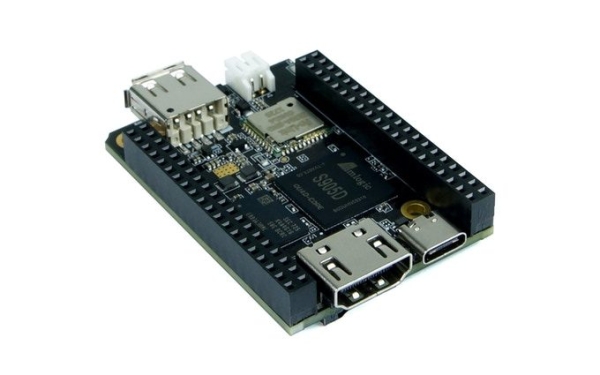 Popcorn Computer is a next generation single-board computer brand. They would like to present the result of two years of effort by Source Parts, two brand-new and unique open hardware computers: Original Popcornand Super Popcorn.
Super Popcorn
It comes in two flavors, one with 4 CPUs, Super Popcorn, and another with 8 CPUs which we call 'Super 8′ Popcorn.
Detailed Specifications:
Super Popcorn and Super '8' Popcorn share many of the same specifications.
They only differ in the main processor.
Amlogic S905D (Super Popcorn)
1.5GHz Quad-Core Cortex-A53 CPU
Mali 450 MP3 Graphics Processor Unit
Amlogic S912 (Super '8' Popcorn)
1.5GHz + 1.0GHz Octa-Core Cortext-A53 CPU
Mali T820 MP3 Graphics Processor Unit
Other Features:
1GB DDR4
32GB eMMC Memory Storage
2x USB (1xUSB-A Host and 1x USB 2.0 OTG Type-C)
WiFi b/g/n with Bluetooth 4.2
Up to 62 GPIO
HDMI 2.0b Video Output
Digital Video Port (DVP) Camera Input
Battery Charging and Power
Supports RGB LCD, 1-Wire, UART, I2C, SPI, PWM Output and ADC
Digital Audio Output and Input
Analog Stereo Audio
The Original Popcorn Computer
In addition to Super Popcorn, we created a C.H.I.P derivative named Original Popcorn Computer. Original Popcorn is pin-to-pin compatible and 100% software compatible with C.H.I.P.  With USB-C Technology, you will have all the power to do what you want to do while keeping the lights on. It has built-in eMMC memory that is reliable, fast and tested to work which means you don't have to go searching for the right SD card.  It has a built-in USB Serial adapter so you can quickly debug without having to grab the right adapter and connect wires.  If you already own a PocketC.H.I.P, you can give it an upgrade with Original Popcorn.
Read more: POPCORN COMPUTERS – THE FASTEST 100% OPEN SOURCE HARDWARE COMPUTERS