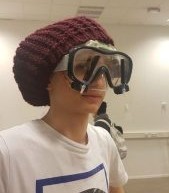 Well hello there! My name is Manou and together with Max and Mirthe we made an arduino project. Do you also have struggles in the rain, when your glasses are totally drenched? We have the solution: glasses wipes! This project is exactly what it sounds like, wipes that will cover your glasses in order to clean your sight during rain or snow. honestly we just wanted to make something fun and although it isn't ...
Read more

›
Hello there Engineers and Hobbyists, we all love Arduino's right! But using an Arduino UNO, NANO or any other Arduino for a small task like displaying a simple message on LCD or just Fading LED would be waste of resource and money, so in this video, we would discover a Cheap and Compact Alternative of Arduino called ATTINY85, so let's get started! Step 1: Watch the Video https://youtu.be/U3wj9dQt50Q Step 2: ...
Read more

›
A friend introduced me to neopixels (WS2812) programmable LED's. That would be great for my word clock, so I re-did the clock. It is very much a mixup with a slightly different size and code. The 8x8 WS2812 modules are also cheaper than the colorduino, I used before. Check out my previous Ible if you want to make this clock with a colorduino. Because this is a Dutch clock, I will also add instruct ...
Read more

›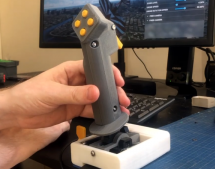 We have seen quite a few DIY joystick designs that use Hall effect sensors, but [Akaki]'s controller designs (YouTube video, embedded below) really make the most of 3D printing to avoid the need for any other type of fabrication. He's been busy using them to enhance his Microsoft Flight Simulator 2020 experience, and shares not just his joystick design, but makes it a three-pack with designs for throttle an ...
Read more

›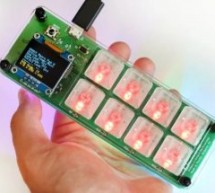 The ANAVI Macro Pad 8 is an open source, mini 8-key programmable keypad. Each key can be reprogrammed to activate a macro or even a dedicated shortcut, all without any coding experience says its creators. Thn aks to the keypad being powered by the advanced, but easy-to-use Quantum Mechanical Keyboard (QMK) open source firmware. "ANAVI Macro Pad 8 can be customized to fit multiple use cases across various in ...
Read more

›
USBNinja is an information security and penetration testing tool that looks and functions just like a regular USB cable (both power and data) until a wireless remote control triggers it to deliver your choice of attack payload to the host machine. In essence, USBNinja is the next step in the evolution of BadUSB, embedding the attack in the USB cable itself. The Attack When plugged into a host computer, USBN ...
Read more

›
This is v1.0 of the PasswordPump, a USB device that manages credentials for up to 254 accounts. Credentials (account names, usernames and passwords) are stored ONLY on the device itself, on two removable EEprom chips using military grade encryption (AES-128). They are not stored in the cloud or in a file on your computer where they are more exposed to hackers. Credentials are backed up on the device itself; ...
Read more

›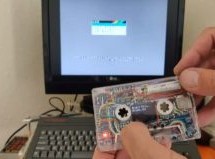 While these days we're blessed with the magic of always-on internet connections and cloud services, back in the day software was delivered on physical media. Some of the most reviled media were data tapes, much maligned for their glacial loading times. However, the tangibility did give them some charm, and [JamHamster] decided to recreate this with his self-contained virtual tape loader. The guts of the loa ...
Read more

›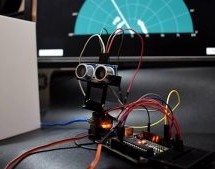 Radars are simply cool, and their portrayal in movies and TV has a lot to do with that. You get a sweet glowing screen that shows you where the bad guys are, and a visual representation of your missiles on their way to blow them up. Sadly, or perhaps thankfully, day to day life for most of us is a little less exhilarating. We can make do with a facsimile of the experience instead. The project consists of an ...
Read more

›
https://youtu.be/Ep9fWQiFmoM This Arduino project uses an Optical Flow Sensor (ADNS3080) to capture movement. Then translate the data to move servo's making it look as eyes are following moving object. This is not an easy build. It requires 3d printing, soldering, some general technical understanding and problem solving as this guide cannot be 100% perfect. I will do my best to make this as comprehensive an ...
Read more

›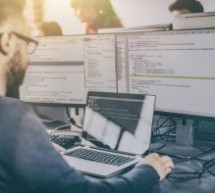 Are you thinking of majoring in Computer Science? Have you already done a subject such as physics or mathematics and you're thinking of taking an MS in computer science? If this is you, you may also be wondering what will happen when you graduate and what kind of job you can expect when you achieve your computer science qualification. When you first pose the question of what can you do with a computer scien ...
Read more

›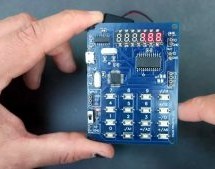 All by itself, a calculator based on an Arduino isn't necessarily very novel. However, [Volos] has a nice board that, of course, looks like a calculator. There are 16 keys and an LED display. But it seems to us the real value would be using this as a base for other projects. As an inexpensive development board, it's handy to have a simple processor with a keyboard and a display. There's some extra I/O pins ...
Read more

›