Osram Develops LED Beam Array Smart Headlamps That Can Analyze Road And Traffic
After over three years of research and field demos, a prototype of Osram's EVIYOS smart, controllable, high resolution LED automotive headlamp was introduced at the International Symposium on Automotive Lighting earlier this year in Darmstadt, Germany. This smart LED headlamp is able to control its 1,024 LED "pixels" individually. The basic component of the EVIYOS combines an LED chip with electronics to provide on/off and dimming control for each pixel within the LED module.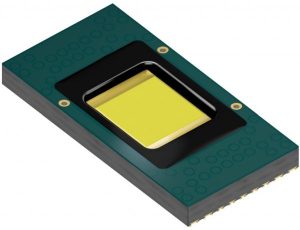 The only 4×4 mm module is capable of delivering about 3,000 lumens when fully activated. The brightness is much greater than the 1,400 lumens of the typical LED automotive headlamp modules. The required circuits to control this module is already connected to the headlamp and it includes an interface for connecting directly to the vehicle electronics. The truly "smart" aspect of this invention is, the system can continuously analyze factors such as the car velocity, road curvature, and distance from other vehicles on the road, including oncoming traffic. Then it makes adjustments to the light emitted from the vehicle's headlamps accordingly.
For instance, a wider beam would be provided for high crowding areas to illuminate the road ahead and also the sidewalks. Having individual pixel control capability, the headlamp can adjust the light output very precisely. Hence, it can provide better visibility for other drivers sharing the road by dimming the specific pixels that would otherwise be causing glare, while still illuminating the road nicely.
As it is scheduled to launch in 2020, Osram is looking forward to offering a separate family of modules targeting lighting applications for which individual control of light pixels would be useful. When asked about potential future markets for EVIYOS technology, Osram responded,
Read more: Osram Develops LED Beam Array Smart Headlamps That Can Analyze Road And Traffic

Project Ratings:
Related posts