MoRFeus is a 30 MHz–6 GHz field-configurable Fractional-N wideband frequency converter and signal generator. Its LCD display and button interface enable dynamic field-level configuration – from switching between signal generator and other modes, to setting the local oscillator frequency and more. It was designed for wideband frequency up- and down-conversion – with an LO frequency range of 85 MHz–5.4 GHz and input/output frequency range of 30 MHz–6 GHz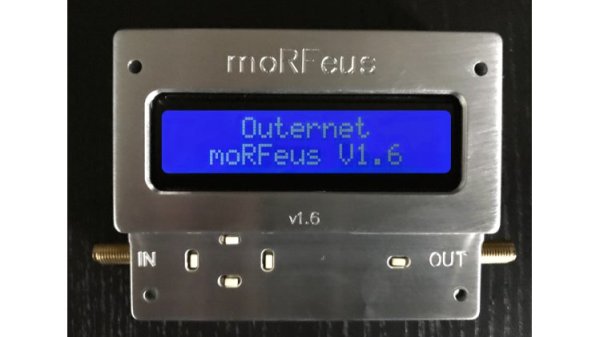 MoRFeus is small, lightweight, and functional. It was designed for low spurious emissions and is packaged in a precision-milled aluminum enclosure.
Product development for moRFeus is done, so we'll be shipping soon. And it's only $149 if you act fast.
Use cases for moRFeus are many
Wideband radios
Distributed antenna systems
Diversity receivers
Software-defined radios
Frequency band shifters
Point-to-point radios
WiMax/LTE infrastructure
Satellite communications
Wideband jammers
Remote radio heads
Frequency up/down conversion
Automated test equipment (ATE)
Wireless communication systems
How it works
MoRFeus integrates into popular RF environments using SMA connectors and is powered using an external micro-USB 5 V supply. The LCD display and button interface provide a dynamic way to program the mixer LO frequency in the field with a step size of 1.5–3 Hz*. Dynamic toggling between mixer and generator modes adds to field-level functionality. An optional bias voltage of 5 V is available via RF choke to the mixer input to supply active antenna systems. The device is also USB HID programmable, enabling automatic operation from a PC running Windows or Linux.
Features
RF input frequency: 30 MHz–6 GHz
RF output frequency: 30 MHz–6 GHz
LO frequency: 85 MHz–5400 MHz
Fractional-N synthesizer
LO step size: 1.5–3 Hz*
USB programmable (Windows or Linux)
Generator/mixer function toggle
Small, portable form factor
Adjustable mixer bias current
LCD display With backlight
Button control interface
General Specifications
Input voltage: 5 V
ESD protection (RF IN and OUT ports): IEC 61000-4-2 contact discharge, 8 KV
Bias voltage: 5 V
Read more: moRFeus – A field-configurable wideband frequency converter and signal generator