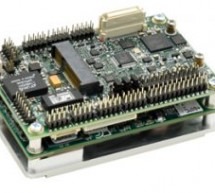 Zeta is a Single Board Computer (SBC) from Diamond Systems that combines a COM Express Mini Type 10 module based on Apollo Lake or Bay Trail SoCs with a DAQ-rich carrier, and a heat spreader mounted below. The Zeta COM Express Mini Type 10 supports the quad-core Atom E3940 and Pentium N4200 from Intel's Apollo Lake generation, as well as a dual-core Atom E3825 from the earlier Bay Trail family. Measures 84m ...
Read more

›

Simplify your DC/DC design with LMZM33603 The LMZM33603 36V, 3A power module offers stellar EMI performance in a compact QFN package. Order yours today and enjoy the peace of mind that comes with reliable performance, small solution size, and reduced design cycle time. Power your processor with the industry's first 5+3- phase PMBus controller Powering high-current processors requires flexible solutions, and ...
Read more

›
The AFBR – S50 is a multipixel distance and motion measurement sensor. It has an integrated 850nm vertical cavity surface emitting laser (VCSEL) which uses a single voltage supply of 5V. It's measurement rates are quick and as fast as 3 kHz, which is a distinguishing feature. However, this is not the reason why the AFBR – S50 stands out. It is different because unlike other Time of Flight (ToF) ranging sens ...
Read more

›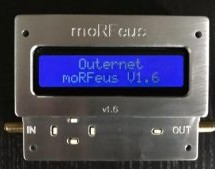 MoRFeus is a 30 MHz–6 GHz field-configurable Fractional-N wideband frequency converter and signal generator. Its LCD display and button interface enable dynamic field-level configuration - from switching between signal generator and other modes, to setting the local oscillator frequency and more. It was designed for wideband frequency up- and down-conversion - with an LO frequency range of 85 MHz–5.4 GHz an ...
Read more

›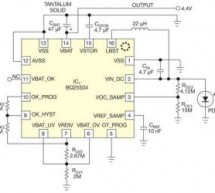 The bq25504 from Texas Instruments is a good candidate to become a milestone on the road to micro-power management and energy harvesting. A prominent feature of this IC is its ability to start up at a supply voltage as low as 330 mV typically, and 450 mV guaranteed. With an SMD inductor and a few capacitors and resistors, it forms a dc-dc converter with a high power efficiency that is unprecedented, especia ...
Read more

›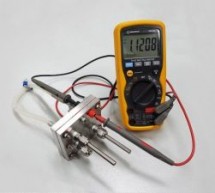 Climate Change have been a crucial factor taken into consideration by the Australian researchers from Royal Melbourne Institute of Technology before creating the first rechargeable proton battery. After considering all available options about cost and availability of the materials needed, the researchers in Melbourne decided to make a proton battery to meet up with the alarming increase of energy needs in t ...
Read more

›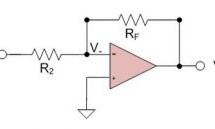 Heightened accuracy and speed in an operational amplifier (op amp) has a direct relationship with the magnitude of its power consumption. Decreasing the current consumption decreases the gain bandwidth; conversely, decreasing the offset voltage increases the current consumption. Many such interactions between op amp electrical characteristics influence one another. With the increasing need for low power con ...
Read more

›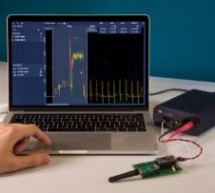 Power measurement software by Qoitech is available from Digi-Key Electronics, following the signing of a worldwide distribution agreement to distribute Otii, a power measurement tool with software. Otii provides developers with the means to simplify power measurement of applications and devices, especially those targeting the IoT space and aiming for optimised, long battery life. Otii combines the measureme ...
Read more

›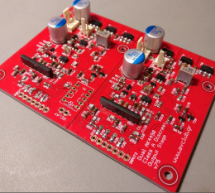 Following up on Part 2, it's time to talk about the output stage. This output stage is the brainchild of my friend Kostas, all I did was lay out the PCB. It is a fully discreet single-ended class-A output stage, outputting ~2.4V RMS. This is its schematic: This is the PCB: And this is the BoM: AK4490 dual mono DAC - Discreet Analog stage BOM (509 downloads) The BoM includes part numbers for most parts from ...
Read more

›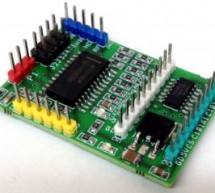 The board shown here is a breakout board for MC33035 brushless motor controller. It requires an output buffer IPM module or Mosfets to complete the closed loop brushless motor driver. MC33035 IC is the heart of the project; the project provides 6 PWM pulses as well 6 Inverse pulses outputs. On board Jumpers helps to change the Direction, Enable, Brake, and 60/120 phasing Header connector provided to connect ...
Read more

›
Based upon Flex Power Modules' Hybrid Regulated Ratio (HRR) topology, the BMR480 DC/DC bus converter module delivers up to 1000W and 96.2A peak power. The BMR480 DC/DC advanced bus converter targets high-end and high-power applications. It is available in an industry-standard and low-profile quarter-brick-format with dimensions of 58.4 x 36.8 x 12.19mm (2.30 x 1.45 x 0.48-inch), and operates from a wide inp ...
Read more

›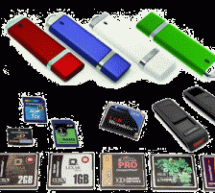 Flash memory is one of the most widely used types of non-volatile memory. NAND Flash is designed for modern file storage which replaced old disk drives. This article provides a brief understanding of how NAND Flash technology works. The basic storage component used in Flash memory is a modified transistor. In a standard transistor, the flow of current through a channel between two contacts is turned on by a ...
Read more

›