Description:
The MS5637 is an ultra-compact micro altimeter. It is optimized for altimeter and barometer applications in Smart-phones and Tablet PCs. The altitude resolution at sea level is 13 cm of air. The sensor module includes a high-linearity pressure sensor and an ultra-low power 24 bit ΔΣ ADC with internal factory-calibrated coefficients. It provides a precise digital 24-bit pressure and temperature value and different operation modes that allow the user to optimize for conversion speed and current consumption. A high-resolution temperature output allows the implementation of an altimeter/thermometer function without any additional sensor. The MS5637 can be interfaced to any microcontroller with I²C-bus interface. The communication protocol is simple, without the need of programming internal registers in the device. Small dimensions of 3 x 3 x 0.9 mm³ allow the integration in mobile devices. This new sensor module generation is based on leading MEMS technology and latest benefits from MEAS Switzerland proven experience and know-how in high volume manufacturing of altimeter modules, which has been widely used for over a decade. The sensing principle employed leads to very low hysteresis and high stability of both pressure and temperature signal.
Features:
QFN Package 3 x 3 x 0.9mm3
High-resolution module, 13cm
Integrated digital pressure sensor (24-bit ΔΣ ADC)
I2C interface
Operating Temperature Range -40 to +85°C
Extended Pressure Range 10 to 2000mBar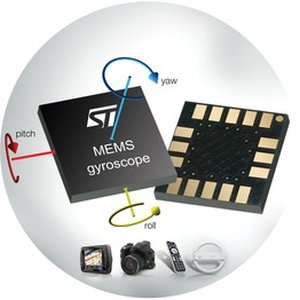 Measurement Specialties, the US-based sensor manufacturer, has introduced a digital barometric pressure sensor in a QFN package which draws only 0.6µA.
Standby power of the MS5637 is less than 0.15µA at 25°C and supply voltage ranges from 1.5V to 3.6V.
The MEMS-based sensor has a footprint of 3 x 3 x 0.9mm.
The MS5637 uses an integrated 24-bit ADC to precisely process pressure and temperature values in as little as 0.5ms.
It uses a high-linearity pressure sensor to provide an altitude resolution of 13cm (5.1in) at sea level for highly accurate measurements.
The ADC, with internal factory-calibrated coefficients that do not require additional programming, easily interfaces with any microcontroller via an I2C interface.
The sensor operates from 300 mbar to 1,200 mbar over an extended temperature range of -40°C to +85°C, with a long term stability of ±1 mbar per year.
For more read: MEMS pressure sensor for tablets