Piconomix, the South-Africa based Embedded systems development company, has launched a campaign on Crowdsupply for a new board called; PX-Hero.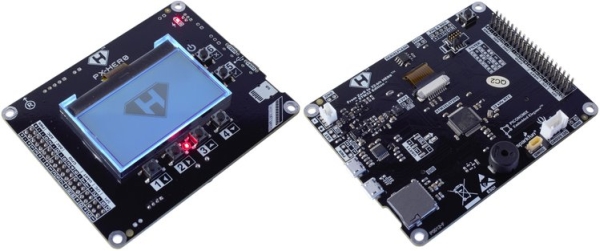 The PX-Her0 is a low-power ARM Cortex MO+ based development board that was developed for use in embedded education applications. The board comes with an ecosystem of tools including an open-source C library, and detailed documentation that is designed to serve as a hands-on guide to help users learn embedded system development at their own pace.
The board is based on the STM32L072RB ultra-low-power, ARM Cortex-M0+ microcontroller with 128kb of FLASH and 4Mbit of serial flash memory using the Adesto AT25SF041 chip, in addition to a spring-loaded microSD card slot which can be used for storage. Showing clear considerations of the need of most beginners, the board comes with a Low-power 128 x 64 monochrome graphic LCD which could be used in teaching how to display data on LCDs, and a LiPo battery charger which makes prototyping battery-based projects easy.
Some specifications and features of the board are provided below:
Microcontroller: STM32L072RB ultra-low-power ARM Cortex-M0+

128k FLASH
20k SRAM
6k EEPROM

Memory: Adesto AT25SF041 4 Mbit serial flash memory
Storage: Spring-loaded push-push MicroSD card slot
Serial communication: Rock-solid FTDI FT230XS USB-serial bridge
Rich user interface:

Low-power 128 x 64 monochrome graphic LCD with LED backlight
User LED and battery charger LED
Piezo buzzer
6 LARGE finger-friendly user buttons
Reset button

Peripheral connectors:

PWR (+3.6 V to +5 V power bus)
ADC x 4
DAC x 1
GPIO x 8 / PWM x 4
UART x 2
I²C x 3 (single I²C bus)
SPI x 1

Power:

Li-Po battery charger
A zero-burden voltage monitoring circuit
Efficient power-path management
True power on/off circuit
95% efficient TI LM3670 step-down DC-DC regulator

Dimensions:

Board: 100 x 80 mm (3.94 x 3.15″)
Display active pixel area: 48.6 x 24.9 mm (1.91 x 0.98″) / 54.6 mm (2.15″) diagonal
Read more: MEET THE PX-HERO, AN ARM CORTEX-M0+ BASED DEVELOPMENT BOARD FOR EMBEDDED SYSTEMS EDUCATION