The release of mini-laptops with display size in the region of 9″ has seen a surge in recent times with several companies like CHUWIX, One Mix, and a few others releasing quite a number of these PCs. To join these growing number of PCs, the Mag1 is joining the fray with the MAG1 "Magic Small" mini laptop.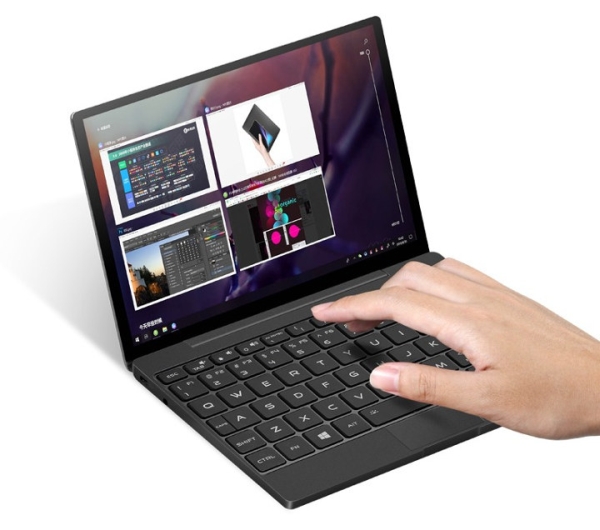 Running on an Intel Core m3-8100Y Amber Lake processor with variable offerings around RAM (8GB or 16GB LPDDR3 RAM), and storage (256GB or 512GB NVMe SSDs), the Mag1 comes with an unusual and rare (common only in china) 8-inch form-factor with an 8.9″ display that makes it a perfect computer for users who find Mini Laptops like those from GPD too small and the standard 13″ PCs too big.
To provide premium user experience not restricted by size, the Mag1 comes with an IPS Touchscreen interface with a 16:10 aspect ratio and a resolution of 2,560 x 1,600 pixels which provides good visual feedback to users and allows easy navigation. Unlike mini-laptops from brands like GPD and a few others, the MAG1 integrates a backlit keyboard with bigger keys, this however led to a quite small trackpad which was crammed under the spacebar.
In addition to it's list of impressive features , the Mag1 also boast a fingerprint sensor located in the upper right part of the keyboard which can be used for fingerprint login and several other authentication based applications like e-registerations. Other interfaces that comes with the Mag 1 include; a USB-C port for charging and video output, a USB-A connector, a microSD (TF) slot, a microHDMI out, and an audio jack. The MAG1 also supports dual-band WiFi and bluetooth 4.0 along with an 8600 mAH battery.
All of the features listed above for the Mag1 runs off the Amber Lake CPU as such, the MAG1 is powered by Intel's Core m3-8100Y dual-core / quad-thread processors giving users just the amount of speed and power they need to get a lot done on such a portable device.
A summary of the specifications of the Mag1 is provided below.
SoC – Intel Core m3-8100Y dual-core/quad-thread Amber Lake processor
Intel UHD Graphics 615; 5W TDP
System Memory / Storage Configurations

8GB DDR3 RAM + 256GB PCIe SSD + MicroSD slot
16GB DDR3 RAM + 512GB PCIe SSD + MicroSD slot

Display – 8.9″ IPS touchscreen display with 2560 x 1600 resolution
Video Output – Micro HDMI up to 4K @ 60 Hz
Audio – Built-in microphone, 3.5mm audio jack, digital audio via HDMI
Connectivity – Dual-band 802.11 a/b/g/n/ac WiFi 5, Bluetooth 4.0
USB – 1x USB 3.0 port, 1x USB Type-C port
User Input – Backlit QWERTY keyboard and touchpad
Sensor – Fingerprint sensor right of the power button
Battery – 8,600 mAh battery good for about 7 hours
Power Supply – USB PD via USB-C port
Dimensions – 8.2 x 5.8 x 0.7 inches
Weight – 1.5pounds
The Mag1 is capable of running Windows 10 so previous windows users will feel right at home.
Read more: MAG1 INTEL CORE M3-8100Y MINI LAPTOP SELLS FOR $590 AND UP IN CHINA