IEL provides solutions in the various sectors of Industrial automation, Smart Transportation, Healthcare, etc. Earlier this year, IEL launched "HYPER-RK36" PICO-ITX form factor SBC which runs on Rockchip RK3399 Processor with high computing and multi-media performance. It has several rich I/O interfaces such as USB 2.0, USB 3.0, 8-bit GPIO, RS-232/422/485, GbE ethernet and also a dual display with HDMI and eDP. It is powered by a 12V, 2-pin wafer connector.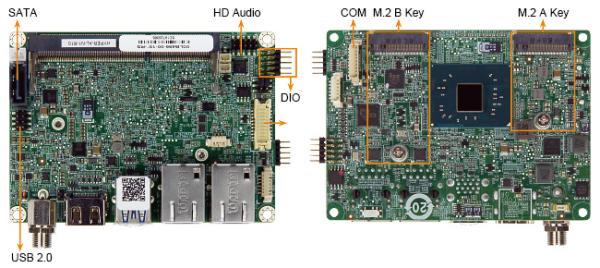 In recent days, IEI launched a compact PICO-ITX form factor "HYPER-AL" SBC which supports Intel 14nm Apollo lake (Celeron N3350) on-board SoC. Celeron N3350 SoC has 2 CPU cores and each can run 2 threads, enabling it with the maximum threads of 4 and has a 2 MB shared L2 cache. It also incorporates an Intel HD Graphics 500 GPU working at 200MHz and a 204-pin DDR3L SDRAM unbuffered SO-DIMM slot with a system maximum of 8GB.
The board comes with the UEFI BIOS programmed into the BIOS chip which enables to monitor the hardware health status like CPU core voltages and temperatures. BIOS menu allows configuring the CPU and other peripheral devices like USB, serial port, PCIe, SATA, etc with different latest technology features available.
Hyper-AL has a dual Gigabit Ethernet ports. These ports are used for multiple network connectivity based on the functionality of the machine. For example, protocol translation can be done on this machine with two network segments on either port. It has a flexible expansion with M.2 A key 2230 and M.2 B key 2242 enables to interface with SATA, USB and PCIe. Along with, it supports USB 2.0, 3.0, COMM port and a dedicated HD audio connector which can be used to connect to the external audio devices like speakers and microphones. In addition, it has an HDMI and 24-bit LVDS(mainly for LCD) for dual display support. This board is powered by single voltage 12V DC jack for AT/ATX power.
Read more: IEL LAUNCHES PICO-ITX FORM FACTOR "HYPER-AL"