The F1950 Digital-Step-Attenuator featuring Glitch-Free™ technology improves system reliability and settling time.  It has an attenuation range of 31.75 dB with excellent accuracy and very low distortion.
Features
Glitch-Free™, < 0.6 dB transient overshoot
150 MHz to 4000 MHz frequency range
Spurious Free Design
3V to 5V supply
Attenuation Error < 0.3 dB @ 2 GHz
Low Insertion Loss < 1.3 dB @ 2 GHz
Excellent Linearity +65 dBm IP3I
Fast settling time, < 400 nsec
Class 2 JEDEC ESD (> 2kV HBM)
Serial & Parallel Interface 31.75 dB Range
4×4 mm Thin QFN 24 pin package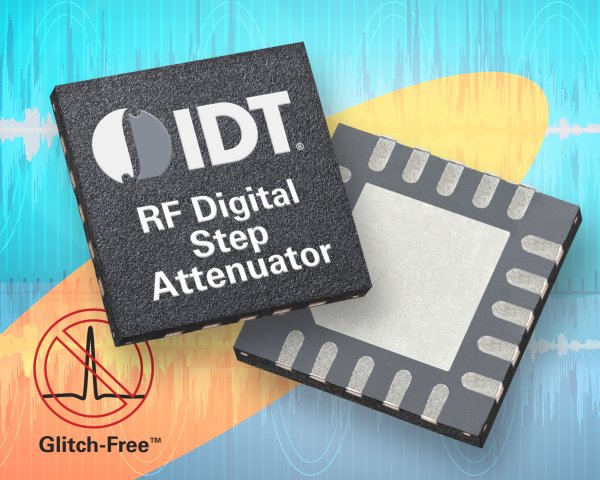 Integrated Device Technology has showed a digital step attenuator that it claims will reduce transient "glitches" during most significant bit transitions by up to 95% in multi-standard 4G, 3G, and 2G mobile basestations.
The IDT F1950 and F1951 digital step attenuators (DSAs) are designed for use in base transceiver station receive, transmit, and digital pre-distortion paths.
The company claimed its technology can eliminate attenuation setting overshoot (glitches) from the transmit and receive paths of cellular communication systems, while at the same time reducing insertion loss and improving distortion performance.
"IDT's new DSAs are another key building block of the communications signal chain that our customers are demanding," said Tom Sparkman, v-p and general manager of the communications division at IDT.
"These DSAs limit glitches to less than 0.5dB," said Sparkman.
The IDT F1950 and F1951 operate from 100MHz to 4000MHz, and can communicate via a parallel or serial interface.
The devices are suitable for setting the power level in 4G long-term evolution (LTE), time-division duplexing (TDD), wideband code division multiple access (WCDMA), extended global system for mobile communications (EGSM) and other popular systems.
The DSAs feature low insertion loss of less than 1.3dB at 2GHz and are accurate to less than 0.2dB over temperature.
For more read: IDT chip cuts glitches in 4G-3G basestations