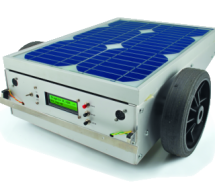 This robot will mow the grass of your garden, staying within a defined area, avoiding all obstacles and working in complete autonomy, automatically charging itself with a solar panel. In this post we present a robotic lawn mower, powered with solar energy and able to operate just with the clean energy from the sun; this one is a great difference from the commercial projects having a robot in need of a charg ...
Read more

›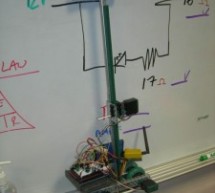 My entry for the Microcontroller contest is a whiteboard cleaning robot. The goal of this project was to create a robot which could erase written text on a whiteboard completely autonomously, i.e. no human interface. The processes involved in this project included devising a method for the robot to search a whiteboard for text, designing a way to physically move a robot to the text, and enabling a robot to ...
Read more

›
Hello, This time I will show an application of the infrared sensor module with Arduino. This module (composed of a pair of LEDs, a infrared transmitter and a receiver and an IC that generates a frequency modulated) is generally used to detect obstacles in robots. This module has some advantages over a simple LED emitting LEDs with a photodetector. The principal, in this case is that the emission frequency i ...
Read more

›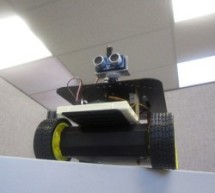 Experience Level: Intermediate (requires soldering) Time Required: 3-5 hours depending on experience J-BOT Kit Jameco P/N 2140285 Someone mentioned that Jameco needed a robotic mascot. I have always been a tinkerer, especially with radio-controlled electronics and so I volunteered for the chance to design and create the J-Bot. While this was my first autonomous robot build, I'm confident it won't be my la ...
Read more

›
Project MACKRA was started after I saw the many problems with pre-built robotic platforms e.g. size, programability, mobility, need for batteries,PRICE, and most being dedicated to a single microcontroller. the goals of the MACKRA project were to do the following: 1.create a cheap, and easy to manufacture chassis 2.draw all power from only a 5 volt source 3.no motor controllers would be required 4.only a sm ...
Read more

›