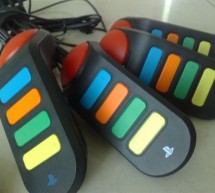 In this instructable you will learn how to make a Q&D-Poor man's-Skinner-Sadist-Jeopardy game . First off, the disclaimer: I'm not responsible of whatever you do. You have to know that with a great power comes...bla-bla-bla. Just be careful and remember that electricity reserves respect. While the energy involved in this project is generally safe, it can be fatal (or at least very harmful) given certain ...
Read more

›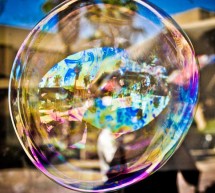 While being a bit lengthy and requiring experience with Arduino, this contraption is bound to grant you infinite glory among your friends, toddlers and grownups alike! Step 1: What You Need Here's a list of the materials and parts I used: The Frame * 5 x 4-feet long rectangular profile (0.5" x 0.5") pieces of wood, as solid as possible. Although you could probably get away with plywood if you wanted to, I a ...
Read more

›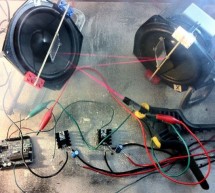 Update! See Step 32 to find out how to use this project with a green laser! Also - checkout the LaserTweet Instructable to make this project display data from Twitter: http://www.instructables.com/id/LaserTweet-Twitter-Projecting-Laser-Show/ This project uses an Arduino and some cheap audio speakers to create a real laser show with full X and Y axis control. The included source code lets you easily draw tex ...
Read more

›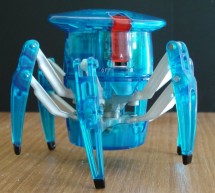 For the Smart Cities exhibition in Leeds in a couple of weeks, we've been building a physical representation of an agent based simulation. Hex Bug Spiders are relatively cheap hexapod robots that are controlled via an infra-red transmitter which has an A or B code so that you can control two simultaneously. The way it walks is referred to as the Jamius walking mechanism after its inventor (see: http://www.y ...
Read more

›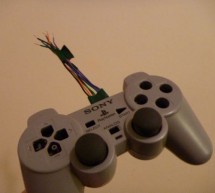 Idea: To take one of my old Playstation 1 controllers and extract the dual thumbstick setup so that it can be easily used in a microcontroller project (in my case: with the Arduino) without extra libraries or drivers that you would need if you want to use the entire controller. Please let me know what you think or if you have questions/criticism for me! I'm always looking to learn new things.Required materi ...
Read more

›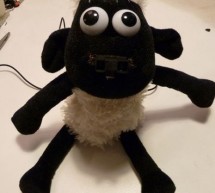 Make A "doorbell" using an Arduino Uno, a Wave shield from Adafruit, a small speaker, a plug, a Sharp distance sensor and a Shaun the Sheep.  Our Shaun is used in an open doorway to alert store staff when a customer has entered. Step 1: Parts List 1. Wav Shield Party Pack (includes speaker and SD card) - $35 2. Arduino Uno - $30 3. Power plug - $7 4. Sharp Distance Sensor - $14.95 5. Shaun the Sheep found o ...
Read more

›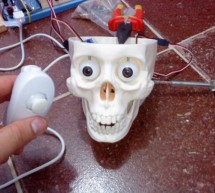 I bought this skull to decorate my computer desk. However, analyzing better, I could do something more interesting. I hope you enjoy. Step 1: Materials - A plastic skull - 8 screws; - Microcontroller (I used an Arduino board); - A Protoboard - A nunchuck (for nintendo wii control) with a adaptador Note: I bought the adapter but can be easily made by following this step by step: http://www.instructables.com/ ...
Read more

›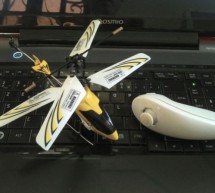 Welcome to my 3rd Instructable everyone ! Today we're going to build a 'device' to control a mini-sized helicopter with a Wii Nunchuk. The helicopter that we're using is a cheap (26$) 3-channel (yaw, throttle, pitch) helicopter that I bought a 1 month back from Dealextreme.com . I can say that it is a VERY durable heli : I have crashed more thant 100 times and it's still working ! It is not radio-controlled ...
Read more

›
I just hope every body's heard. The Bird is the Word! This is a simple device to play Surfin Bird really loudly when someone trips off the motion sensor. If you don't already own an Adafruit Wave Shield, I'd highly suggest purchasing one. It's become my favorite shield by far. I love the idea of a dead quiet space with no obvious electrical devices and then "Bamm, right in the kisser" with some annoying mus ...
Read more

›
This is a cute little project that takes a pumpkin, motion sensor, and some parts from Radio Shack. It was fun to create and build. This project was sponsored by the Radio Shack Great Create and I was able to make the whole thing with parts available from Radio Shack. Thanks for the gift card, Radio Shack! Step 1: Parts Arduino Uno 9V Recording Module http://www.radioshack.com/product/index.jsp?productId=21 ...
Read more

›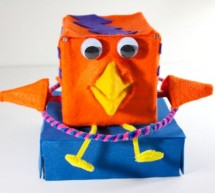 RoboBrrd is an robot / animatronic character whose purpose morphs to mirror that of the virtual world. It is designed to be used as a tangible real world interface to virtual world learning applications. As a standalone robot, RoboBrrd is an entertaining platform that can be used to learn about robotics, Arduino, circuits, and programming. Here is a teaser video for this RoboBrrd: http://www.youtube.com/wat ...
Read more

›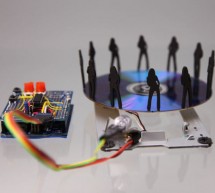 Stroboscope (AKA zoetrope) is a device that creates an illusion of a moving picture by showing a rapid successions of frames  "stopped" for a fraction of a second due to the persistence-of-vision (POV) effect. It is a very old toy; zoetropes have been amusing crowds since 19th century. It makes it all the more fun to make one out of decidedly 21st century parts! The project was inspired by my own interest i ...
Read more

›