Helios4 – The World's 1st Open Source NAS
Helios your Own Private Cloud
Helios4 is a Network Attached Storage or NAS – a smart box with up to 4 hard drives designed to store Family Photos, Music playlists, and Movie collections by connecting to your Home network.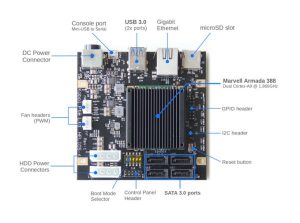 Program movie download & Get Fast access to Videos, Pictures & Music from any device.
Share your photos & files and let friends and family access them anywhere, anytime…
Protect your data from loss & corruption with RAID redundancy never lose memories again.
Features & Benefits
Helios4 is the cornerstone of a perfect Home network storage
Up to 50% less than the NAS market standards and you save on Energy
Turnkey solution & Access to thousand of Free Open Apps
Half the Volume Size of 4 Bay NAS competitors
Custom Color DIY NAS assembled in less than 10 minutes
By using your network Helios4 performs way better in delivering your data at home and makes your content accessible anywhere over the internet.
Helios4 is the single access to your data memories acting as a live back-up for all your family devices.
A Powerful Home Storage Solution
Helios4 is the perfect recipe of high speed interfaces to build a real NAS :
The Marvell ARMADA® 388 is a robust energy-efficient System on Chip (SoC) with very powerful processing abilities especially suited for headless data processing, networking and storage. This Dual-core ARM Cortex A9 CPU clocked at 1.8 Ghz integrates a Cryptographic and XOR DMA engines to provides the best level of performance for NAS functionality.
The only ARM based board on the market that offers 4x SATA 3.0 ports. This is the key feature that makes this platform the first single board computer specially designed for Network Attached Storage. Enjoy up to 40TB of storage (4x Disk of 10TB) while insuring enough throughput to share your data across your entire home or small office network.
Read more: Helios4 – The World's 1st Open Source NAS

This Post / Project can also be found using search terms:
Project Ratings:
Related posts