Let's Start Coding Offers Customizable Electronic Kits That Teach Kids 8-12 Real Code in a Hands-on Way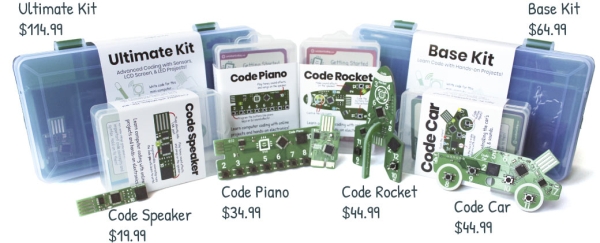 Remember how much fun you had with chemistry sets from your childhood? You made things blow up and glow and learned about chemistry in the process. Let's Start Coding is the "chemistry set" for today's kids, teaching them real-world coding skills while making cool toys and gadgets.
Let's Start Coding kits are designed with the beginner in mind though they also make a great next step for kids who are familiar with Scratch, Blockly, Minecraft or Hour of Code. This holiday season, give the gift of coding skills– the same skills used by organizations like NASA and Microsoft– to your favorite young learner.
A kit from Let's Start Coding contains customizable electronics, like LED lights, speakers, buttons, and sensors. Through our free online examples and projects, kids learn to manipulate these physical gadgets with C++ code, building devices and toys as simple as a flashlight or as complex as a mini video game. Recent users have built an LED belt, a gadget that lights up their skateboard, an automatic night light, a "Clapper"-like device, even a digital dj booth.
Let's Start Coding has a lineup of 6 kits for the holiday season for the budding engineer or inventor in your life. Customizable kits are Speaker ($19.99), Piano ($34.99), Car ($44.99), Rocket ($44.99), Base Kit ($64.99), Ultimate Kit ($114.99). Kits are available on Amazon and at www.letsstartcoding.com.
Source: GIVE THE GIFT OF REAL-WORLD CODING SKILLS TO TWEENS THIS HOLIDAY SEASON