Garz & Fricke, supplier of hardware and software solutions for industrial IoT from Hamburg, will present its versatile product portfolio at the embedded world 2020 in Nuremberg. One of the exhibition highlights at booth 240 in hall 2 is the new TANARO Single Board Computer – a consistent further development of the existing product families.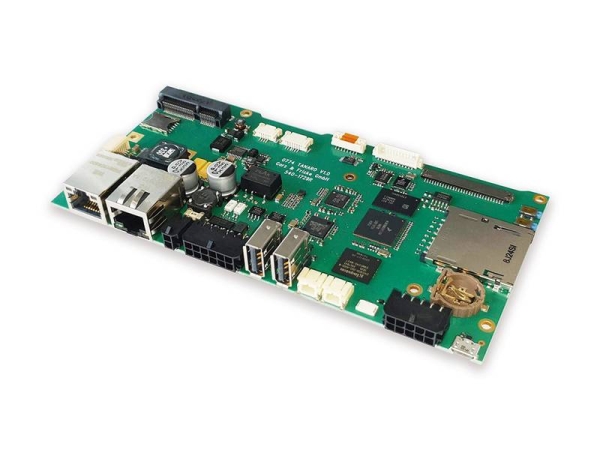 Garz & Fricke has made a name for itself as a manufacturer of customized HMI and panel PC solutions for various industries. Many years of experience and creativity characterize the solutions of the Hanseatic company. Nearly all products are developed and manufactured at the Hamburg site itself.
With the TANARO Single Board Computer (SBC) Garz & Fricke presents the latest member of its product family of Single Board Computers at the Nuremberg trade fair embedded world, which was designed for the area of industrial image processing. The SBC model is equipped with the current processor generation NXP i.MX8M Mini. The Quad Core Cortex-A53 processor system from NXP is manufactured using the latest 14LPC FinFET process. This guarantees optimum performance with low power consumption. At the same time, no wishes remain unfulfilled, even with extremely high requirements regarding operating temperature.
Wide Range Of Applications Thanks To A Multitude Of Interfaces
In addition to the classic interfaces such as RS485, CAN, RS232, USB and Ethernet, the TANARO Single Board Computer​​​​​​​​​​​​​​ also offers the option of retrofitting wireless modules. In addition, there is the option of retrofitting a MIPI CSI interface for connecting cameras as well as an extended audio interface, which can also be used to connect a microphone. "This AV interface, together with a corresponding software stack, makes the TANARO SBC fit for the latest applications, that are in demand in the prospering IoT environment," says Managing Director Matthias Fricke, explaining the possible applications. "In combination with TensorFlow, for example, TANARO is thus also optimized for projects that require machine learning".
Like almost all solutions from Garz & Fricke, the TANARO SBC is a fully integrated single board computer "Made in Germany", which is manufactured at the new production site in Hamburg. Due to the Garz & Fricke Family Concept and Lifecycle Policy, TANARO is available as Human Machine Interface (HMI) in different designs. The new SCB is currently offered as Flush Mount, Rear Mount and Panel Mount, starting with the seven inch budget version up to currently 32 inch.
Read more: GARZ & FRICKE EXTENDS PRODUCT FAMILY OF SINGLE BOARD COMPUTERS