Operating at USB Hi-Speed 480Mbps rate, this fast single channel bridge chip features either a flexible serial interface or parallel FIFO interface, with data transfer speeds up to 40Mbytes/s. Using a serial EEPROM interface, this device can be configured for a wide variety of asynchronous and synchronous serial standards, such as JTAG, SPI, I2C and UART as well as synchronous and asynchronous parallel FIFO interfaces. In addition, this device features the new synchronous, half-duplex FT1248 bus, which allows an engineer to trade off bandwidth for pin count using 1, 2, 4, or 8 data lines at up to 30Mbytes/s. The I/O structure is 3.3V with built-in tolerance for 5V, allowing the designer maximum flexibility when interfacing with FPGAs.  On-board voltage regulation provides 3.3V and 1.8V supplies from a 5V source, as well as a power-on-reset function. FTDI provides royalty-free virtual com port and D2XX drivers for Microsoft Windows (XP – Windows7), Apple Mac OSX, and Linux. This 48 pin device is available in either LQFP or QFN packaging, and is ROHS compliant.
key hardware fatures
Single channel USB to serial / parallel ports with a variety of configurations.
Entire USB protocol handled on the chip. No USB specific firmware programming required.
USB 2.0 Hi-Speed (480Mbits/Second) and Full Speed (12Mbits/Second) compatible.
Multi-Protocol Synchronous Serial Engine (MPSSE) to simplify synchronous serial protocol (USB to JTAG, I2C, SPI or bit-bang) design.
UART transfer data rate up to 12Mbaud. (RS232 Data Rate limited by external level shifter).
USB to asynchronous 245 FIFO mode for transfer data rate up to 8 MByte/Sec.
USB to synchronous 245 parallel FIFO mode for transfers up to 40 Mbytes/Sec
Supports a half duplex FT1248 interface with a configurable width, bi-directional data bus (1, 2, 4 or 8 bits wide).
CPU-style FIFO interface mode simplifies CPU interface design.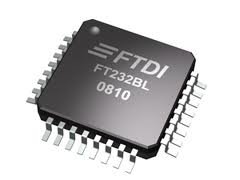 Future Technology Devices International (FTDI) has added two more cables to its USB to digital level serial interface product range.
The devices which interface USB 2.0 with digital level UART cables incorporate the firm's FT232H Hi-Speed USB interface ICs mounted on a circuit board contained within the USB connector at the end of the cable.
Receive and transmit buffers with 1 kByte capacities allow efficient transfer of high levels of data. The signal levels are either +3.3 V (for the C232HD-DDHSP-0 version) or +5 V (for C232HD-EDHSP-0 version).
The integrated FT232H IC handles all the USB signalling and protocols, facilitating rapid implementation and lowering engineering overheads.
Both the C232HD-DDHSP-0 and C232HD-EDHSP-0 have an optional power output capability with a maximum output current of 200mA at their respective signal voltage level.
The cables, which are 1.8m long, can cope with data transfer rates of up to 12Mbaud.
Both of these cable products have an operational temperature range of -40 °C to +85 °C. They are housed in black cabling with a transparent connector at the end. Individual wires are terminated on to a single header socket.
Typical applications for these product include Flash card readers/writers, bar code scanners, industrial control systems, medical diagnostic equipment, set top box interfaces, USB digital camera interfaces and USB wireless modems.
For more read: FTDI integrates USB 2.0 interface into UART cables