Description
MAX44000 combines a wide-dynamic range ambient light sensor with an integrated infrared proximity sensor, making it a perfect solution for touch-screen portable devices.
MAX44000 consumes as little as 11µA (time averaged) in ambient light sensing plus proximity sensing, including external IR LED current.
The on-chip ambient light sensor is capable of wide dynamic range 0.03 lux to 65,535 lux measurements. An on-chip IR proximity detector is matched with an integrated IR LED driver. All readings are available on an I²C communication bus. A programmable interrupt pin minimizes the need to poll the device for data, freeing up microcontroller resources, reducing system software overhead, and ultimately, reducing power consumption.
MAX44000 is designed to drive an external IR LED and can operate from a VDD of 1.7V to 3.6V. It consumes just 5µA operating current when only the ambient light sensor is enabled and 7µA when the proximity receiver and driver are enabled.
Key Features
Tiny, 2mm x 2mm x 0.6mm UTDFN-Opto Package
VDD = 1.7V to 3.6V
Low-Power Operation

5µA in Ambient Mode
7µA in Ambient Plus Proximity Mode
70µA in Ambient Plus Proximity Mode, Including 100mA LED Current

Excellent Light-Source Matching

Programmable Green and IR Channel Gains

Integrated Single-Pulse IR LED Driver

10mA to 110mA Programmable Range
Internal Ambient Cancellation

-40°C to +105°C Temperature Range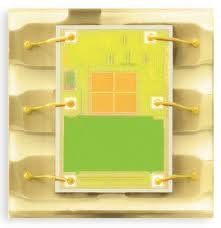 Applications/Uses
Accessories
Industrial Sensors
Presence Detection
Smartphones
Maxim has introduced a digital ambient light sensor that allows for incandescent and fluorescent illumination, and it senses proximity using infra-red.
Called MAX44000 and made on a BiCMOS process, the 2x2x0.6mm IC includes three optical sensors and two ADCs.
Two of the photodiodes and an optical filter are used together to mimic the optical response of the human eye in a variety of spectral environments with a 0.03 to 65,535 lux dynamic range.
There are practical difficul¬ties in trying to reproduce the ideal photopic curve in a small cost-efficient package," said Maxim. "The IC instead uses two different types of photodiodes, a green and an infrared, each of which is amplified and subtracted on-chip with suitable gain coefficients so that the most extreme light sources – fluo¬rescent and incandescent – are well matched to a com¬mercial luminance lux meter."
Separate user-programmable green and IR chan¬nel gain trim registers allow the sensor to be used under dark or coloured glass.
Proximity detection uses the third photodiode, which is also infra-red, and an IR LED pulsed by the chip.
Pulsing cuts power consumption and allows the circuit to reject ambient illumination.
"When a smartphone is brought up to a user's face, the touch screen must be shut off to prevent inadvertent touches that may disrupt the call," said the firm. "Thus a proximity sensor is crucial. Once a sensed signal is received, it is run through a front-end circuit to reject ambient infra-red and sent to an ADC."
For more read: Ambient light includes IR sensor for mobiles proximity detection