In this project we will show how to build WiFi controlled thermostat with ESP8266, Arduino and touch screen display. Thermostat will also show other info, like weather forecast and temperature outside. Total cost for thermostat is about 40EUR, which is price for basic commercial thermostat in shop.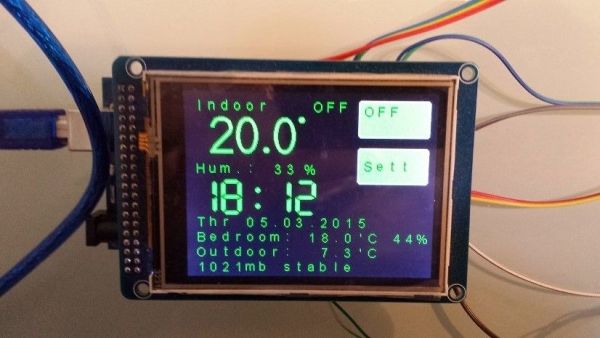 Basic features:
6 modes – Auto, Off, LOLO, LO, HI, HIHI
Touch screen
WiFi connected
Four set temperatures (LOLO, LO, HI, HIHI) and weekly schedule
Time display
Additional data display – temperature in other room, air pressure and weather forecast
Step 1: Materials
Arduino Mega 2560
ESP8266 WiFi module
BMP180 Digital Barometric Pressure Sensor
DHT22 Digital Temperature And Humidity Sensor
1 Channel Isolated 5V Relay Module
RTC DS1302 Real Time Clock Module
3.2″ TFT LCD Module Touch Panel+ TFT 3.2″ LCD Shield Expansion Board For Arduino
Step 2: Connections
Connect Arduino and TFT shields together. Then add ESP8266 module. Then add ESP8266 to Arduino. See Connenct 5V Arduino and ESP8266 tutorial for details.
DHT22 connections
Arduino DHT22
VCC->1 VCC
GND->4 GND
8->2 DATA
BMP180 connections
Arduino BMP180 module
VCC->VCC
GND->GND
20->SDA
21->SLC
RTC DS1302 connectios
Arduino DS1302
VCC VCC
GND->GND
11->CE
10->IO
9->CLK
For more Detail : ESP8266 WiFi touch screen thermostat