ERASynth Micro is a USB-Powered, Low Priced, Open Source RF Signal Generator, by ERA Instruments.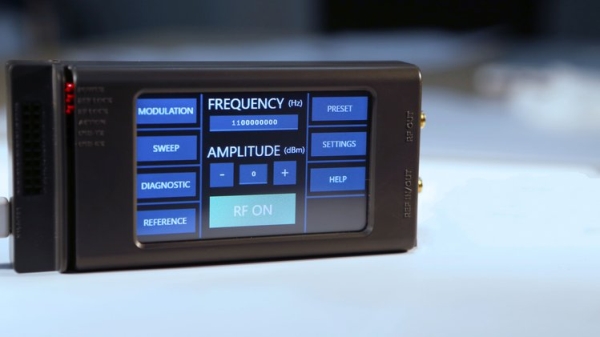 ERASynth Micro is an open source signal generator with impressive features. Everyone can afford it, including makers, hackers, students, ham radio and SDR users. ERASynth Micro can be powered from a USB port and features an LCD interface for standalone use without a computer or phone. It can generate low phase noise RF signals from 12.5 MHz to 6.4 GHz with a dual PLL architecture.
Features & Specifications
Architecture: Dual loop Fractional-N PLL
Frequency Range: 12.5 MHz to 6.4 GHz
Amplitude Range: -50 to +15 dBm
Phase Noise: -115 dBc/Hz @ 1 GHz output and 10 kHz offset
Frequency Switching Time: 1 ms (typical)
Reference: Ultra-low noise 50 MHz VCXO locked to a ±500 ppb TCXO
MCU: ATMEGA32U4 (same as in the Arduino Micro)
Interfaces:

Touch Display Module (3.2" Nextion NX4024T032)
Micro-USB for power input and serial access
REF In (SMA) for external reference input
REF Out (SMA) for 10 MHz reference output
RF Out (SMA)
Expansion connector: External trigger input, external modulation input, microphone input, GPIO (I2C), and SPI

Modulation: AM, FM, Pulse (Internal and external)
Size: 57 mm x 118 mm x 23 mm
Weight: <120 g (including the LCD screen)
Power Input: 5 V
Power Consumption: <2 W
Enclosure: Injection molded plastic case
Open Source: Schematics, embedded Arduino code, LCD screen source code, and RS-232 command set
Makers/Hackers:
RF signal generators are expensive pieces of test equipment mainly used by pro engineers. ERASynth Micro aims remove the cost barrier and make quality RF signal synthesis accessible to everyone, especially the makers.
Students:
ERASynth Micro is for everyone who wants to learn how signal generators work. Since it is open-source and open-schematics, students or anyone who is curious about the inner details of signal synthesis can benefit from ERASynth Micro. You can learn a lot more by reverse engineering and hacking than you can learn in an entire year of a $50k/year engineering school. Learning about the design of test equipment turned Jim Williams into one of the best analog engineers in the world. ERASynth Micro's advanced design will certainly teach you several RF tricks.
Read more: ERASYNTH MICRO – AN OPEN SOURCE RF SIGNAL GENERATOR