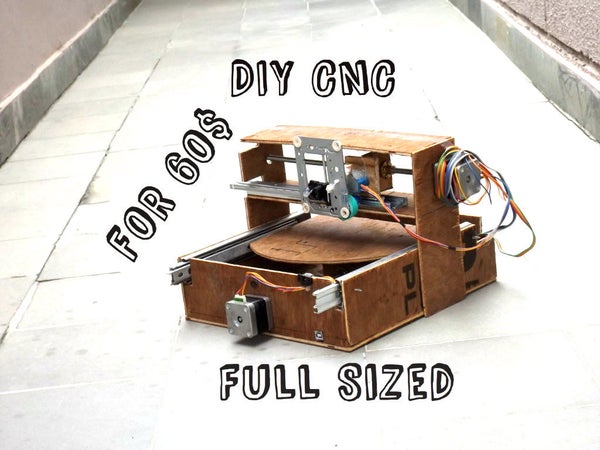 Hi there I've been here after a long time, and this time I've made a huge project as compared to my earlier ones. This is a full-sized 250 mm X 300 mm work area CNC machine and more interesting things is that it was made in 60$ only. I got some time in my summer vacations and this time I thought to make something apart from my daily work,I can say that it is a fully functional prototype. It is a full version of a CNC. I failed many times during this build but at the end I got precise CNC machine. In the following steps you may notice two different versions of it actually the larger one doesn't work properly so I made smaller one with work area of 25 cm X 30 cm. This is my longest instructable ever I am going to mention each and every thing I faced and did during the building time. I can easily see many mini CNC's on this website made from old floppy drives and CD ROMs. First of all I thought to make a mini version of this CNC but due to a little difference between the cost of mini and full versions I decided to go with this one. I really need a 3D printer to keep making projects in future, if you like this tutorial please don't forget to vote!
Update :- I just recorded a video of it drawing a circle.
See this video of my CNC working with all axes moving :-
Step 1: Failure and Success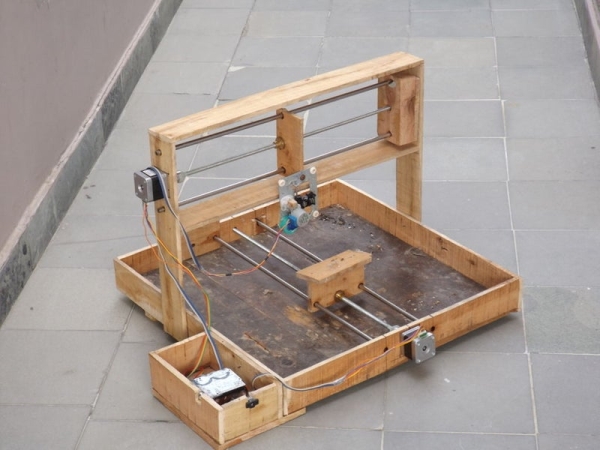 As I mentioned in the introduction that I failed many times. To give you a clear picture of making your own CNC mill I will write every success and fail during my build. The larger one worked fine but it wobbled around which annoyed me and the nema 17 motors sometimes weren't enough to move heavy load. The first picture is of the fail version and the second one is of the final successful version. The smaller one drew straight lines with full accuracy I ran rectangle g-code in the video,possibilities are unlimited.
NOTE :- You can make your own g codes using makercam or inkscape. Please consider this.
The whole making process :-
Step 2: Things Required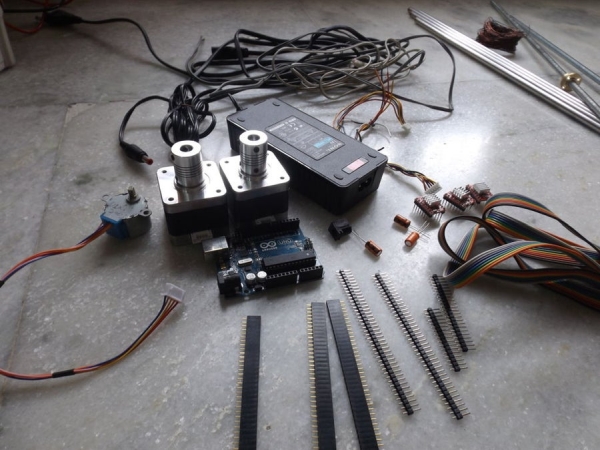 The list is a bit long :-
Nema 17 stepper motors (1.8 degrees.4.4 kg cm torque) X 2
28BYJ-48 5V stepper motor
A4988 stepper motor drivers X 3
Rainbow wire,connecting wire
DC Port
12V 5A DC power supply
Arduino UNO R3
Copper clad board
Printer with gloss sheets
0.8 mm drill bit
Drill machine
100 uf capacitors X 3
2 component adhesive
Male headers
Female headers
Plywood
Thin nails
Multi-meter
Soldering iron and solder
Scissors
Screwdrivers
3 mm drill bit
Ferric Chloride
Containers
M3 screws
500 mm screw rods X 2 (300 mm would be OK if you want a successful version)
Smooth rods X 4 (Required for fail version)
Flange nuts 8 mm X 2
Flexible shaft couplers X 2
Nipper
Electric iron
Hot glue gun with glue sticks
Sand paper
Read more: DIY CNC for 60$ (Large Work Area)