Congatec, a leading vendor of standardized and customized embedded computer boards and modules, announced today that the brand new embedded versions of the 8th Generation Intel® Core™ Mobileprocessors (codenamed Whiskey Lake) are now available on COM Express Type 6 Compact modules, 3.5 inch SBCs, and Thin Mini-ITX motherboards. OEM customers benefit from an instant performance boost of up to 58%¹ compared to previous embedded U-Series processors – enabled by 4 instead of 2 cores plus an overall improved microarchitecture. Thanks to features such as optional Intel® Optane™ memory 2 or USB 3.1 Gen2, everyday tasks are even more responsive. The processor cores allow efficient task scheduling and furthermore support the use of the RTS hypervisor software to allow additional optimization of I/O throughput from the input channels to the processor cores.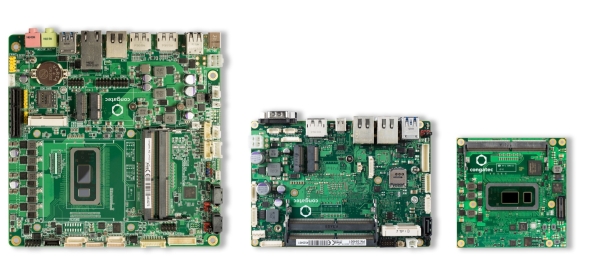 The new Congatec boards run Linux, Windows 10, or Win 10 IoT Enterprise on the following processors:
Core i5-8365UE (4x cores @ 1.6GHz, 6MB cache, 15W)
Core i7-8665UE (4x cores @ 1.7GHz, 8MB cache, 15W)
Core i3-8145UE (2x cores @ 2.2GHz, 4MB cache, 15W)
Celeron 4305UE (2x cores @ 2.0GHz, 2MB cache, 15W)
Designed for harsh and space-constrained environments, the new high-end Intel® Core™ i7, Core™ i5, Core™ i3 and Celeron® embedded processor boards and modules are the first in the industry to offer long-term availability of 10+ years. This brand new embedded x86 design principle premiers at congatec and within the entire embedded board vendor space² with the launch of the new 8th Generation Intel® Core™ Mobile processor boards. Addressing in particular the increased life cycle needs of the transportation and mobility sector, these new boards and modules are also a perfect fit for all other embedded applications – such as medical equipment and industrial controls, embedded edge clients and HMIs – as they enable extended life cycles without additional costs for customers.
Read more: CONGATEC BOARDS WITH 8TH GEN INTEL® CORE™ MOBILE PROCESSOR AND 10+ YEARS AVAILABILITY